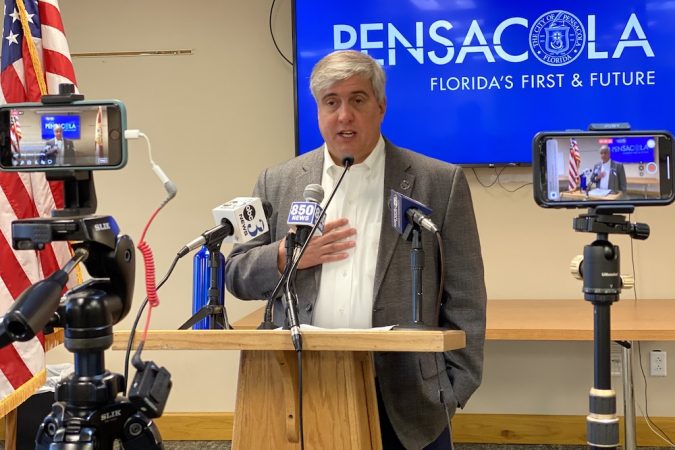 by Jeremy Morrison
Much of Pensacola Mayor Grover Robinson's weekly press conference Monday morning was devoted to the impending dissolution of the homeless camp currently located beneath an I-110 overpass near downtown. The mayor dug into a collection of issues surrounding this matter — such as where the campers will be going and the prospects of litigation — but stressed that the encampment would be cleared by the end of this month.
Mayor Robinson said that the city is prepared to place the campers at alternative locations, ranging from shelters to potentially other outdoor areas.
"We think we have a place for everyone," Robinson assured.
The city of Pensacola has allowed the homeless camp beneath the interstate to exist for nearly a year, in part due to the ongoing pandemic and in part due to the area's lack of available shelter space. During that time, a collective of local homeless organizations participated in a process that resulted in a host of recommendations to the city on how best to spend about $3 million of federal funds to address homelessness; Pensacola City Council designated about half of the funds, some for permanent shelter space and some for more temporary solutions, such as hotel rooms.
Mayor Robinson referenced the city's efforts Monday while stressing that the city could not solve the area's homelessness issue alone.
"The city of Pensacola has only so much it can absorb," he said. "But we've been the only ones working it, we've been out there doing something, and we continue to be committed to finding solutions."
The area where the I-110 encampment is located is slated to be developed into a greenspace soon by the state, and Mayor Robinson pointed to FDOT's start date on the project as the reason the city will be clearing the area by the end of the month. The city will take two weeks to clean the property following the camp's removal.
"We need to get it cleaned back up to what it was before and what it looked like before we started this process," Robison said.
While the shelter space that will be funded with the federal funds won't come online until late February or March, the mayor said he's confident that campers at the site can be accommodated with other arrangements; the city will be working with partner community organizations on this front. Robinson said some of the campers might be able to find shelter space, while others may be sent to other unspecified outdoor areas or perhaps be put up in a hotel room (city council members designated some funds for hotel rooms in the case of cold weather).
"At this time, we do think everyone can transition into one of those other things," the mayor said, adding that the city could always establish another campground elsewhere, what he called the "public response."
If the city evicts people from public property without being able to direct them towards available shelter space or an alternative area, it runs the risk of being sued. Mayor Robinson said that no one had approached the city as of yet with a lawsuit — "but we continue to hear rumblings" — though he expected one was inevitable.
"There is no doubt there are a few people in this process that don't understand collaboratively and want to have everything their way. I fully expect that they will sue. We're prepared, and we are ready to go," Mayor Robinson said, explaining that the city was always anticipating such a lawsuit: "We've been very diligent and very prepared throughout this process, and we've known there's a very likely potential that we will be sued."
The mayor continued, saying that he thought potential lawsuits against the city could be useful in establishing new precedence on several legal fronts, including public space access rights and also how best to consider a municipality's efforts in addressing homelessness when weighing any homeless-centric lawsuits.
"If somebody does take this to court, we think it can be monumental for cities and counties," Robinson said. "Almost everyone universally is looking for a new case to set and begin to establish new precedence of how communities work forward to address these ideas."
The mayor said that he felt the city was well prepared for any potential lawsuits.
"Everything that we've done has been to line ourselves up in the event that we do get to go to court," he said.
Power Struggle?
The Pensacola City Council will workshop this week on the notion of starting up a municipal utility company in lieu of contracting with Florida Power & Light (formerly Gulf Power). Mayor Robinson — who is responsible for negotiating with FPL on a new contract — weighed in on the issue Monday, sounding none too optimistic about the potential for the municipal power company.
"I'm not gonna support anything that doesn't at least keep us neutral from a cost standpoint," Robinson said. "If it adds any cost, no, we're not even; that's gonna be a no-go."
In addition to placing a zero-cost requirement on the concept, the mayor said he would also not support any move that might be less advantageous insofar as the city's goal to lean into renewable energy, and also would not support anything that would be less reliable than contracting with FP&L.
Mayor Robinson described his position going into this week's workshop as "skeptical."
"So, I mean, this is kind of an interesting position," he said. "I'm happy that council has chosen to take an initiative and let them go and let me sit in the judge's chair, and I'm happy to judge, but no, if it doesn't solve cost, if it doesn't make things less costly for our citizens, I'm not going to do it. And I haven't seen many models that even become cost-neutral."
COVID OK?
Although local COVID hospitalization numbers are above 200, Mayor Robinson said that local hospital officials haven't expressed too much concern about it, partly due to this recent wave's — the omicron variety — tendency to be less severe symptomatically.
"They haven't expressed too much of a concern," Robinson said. "I mean, they're obviously concerned, but I think they're seeing omicron as kind of getting us to where we want to go, to where we see a more widely transmissible disease, but a virus that has much less impact."
Last week, the local area had 239 individuals hospitalized with COVID, while Monday's number was 247. While that's high, the number of those patients in intensive care has remained below 20 percent (unlike in earlier phases of the pandemic).
"Even 200 people are putting much less pressure on their ICU capacity," Robinson said, explaining the official city position on the current COVID trend as "cautiously watching."