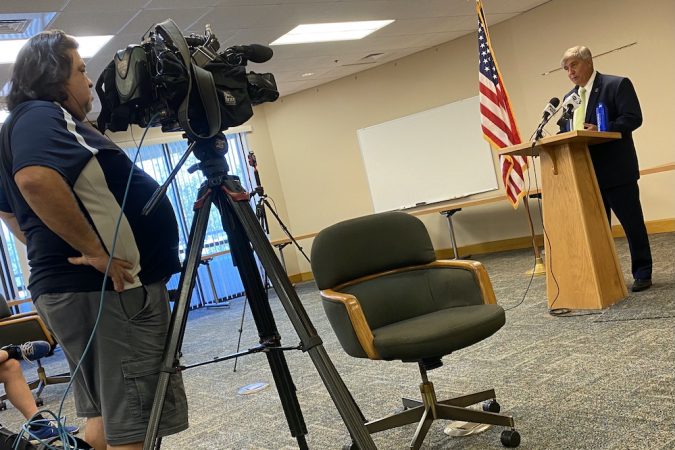 by Jeremy Morrison
The density of uniformed law enforcement officers was impossible to ignore.
"Obviously, it either looks like there's a crime scene here, or something else is going on," joked Pensacola Mayor Grover Robinson, opening his weekly press conference Monday morning.
The officers, mostly hailing from the Pensacola Police Department, were at city hall to attend the swearing-in ceremony of the department's new chief, Eric Randall, following the presser.
Mayor Robinson told the attending PPD members that he considered the department to be among the best in the state and possibly the country — "I would put them up against anybody" — but that there was room for improvements.
"They're an incredible department, they do an incredible job for us, keeping us safe, but even when we're at our best, we can always be better," the mayor said. "And I think what we are seeking to do is to find the opportunity to be better."
Randall's hiring comes nearly two years since a former PPD detective fatally shot an unarmed Black man during a traffic stop, sending the city into a soul-searching session — involving both a citizen advisory committee and inter-departmental work — that in some way is capped, or at least punctuated with the hiring of a new police chief.
Randall, who is himself Black, grew up in Pensacola before joining the Navy and pursuing a career in law enforcement that most recently saw him serving in Newport News, Va. The new chief has expressed enthusiasm regarding the municipal discussions concerning law enforcement locally and embraces the concept of community policing, which emphasizes developing positive relationships between law enforcement agencies and the communities they serve.
Referencing these challenges and efforts to address them, Mayor Robinson nodded toward Randall as the right person to carry the PPD forward.
"We've never been afraid to evaluate ourselves through some of these things," Robinson said. "I know they've been challenging discussions, but I think we've been able to move forward, and we're going to make Pensacola Police Department even better, and we're going to see better days for what we're doing. I'm convinced of that."
Dashing the Dashboard
A regular, main-stay of Mayor Robinson's weekly pressers, for the past year or so, has been a rundown of recent COVID data for the region. Case counts. Positivity rates. Hospitalizations. Deaths.
It was dependable, if more often than not depressing. But that regular rundown on COVID is coming to an end, Mayor Robinson said Monday.
"The Florida Department of Health has removed their COVID-19 dashboard, so the city, at this particular time, the only thing that we're doing is hospitalizations," he said. "We will continue to follow hospitalizations, but we have been below 20."
Mayor Robinson has previously said that if hospitalizations stay below 50 through the end of June, the city will stop requesting hospitalization numbers from local hospitals.
With local governments curtailing their COVID reports in tandem with the state's rollback on that information, and also with the suspension of any coronavirus safety measure requirements, such as masks mandates, Mayor Robinson stressed the importance of receiving a COVID vaccine.
"If you have not been vaccinated, we hope that you will think about that and get that done," he said. "That's the best way to protect yourself going forward."
Overlooking FDOT's Wall
The Florida Department of Transportation has begun work on West Cervantes Street, where the state is performing roadwork designed to calm traffic and better ensure pedestrian safety in an area that has experienced a disproportionate number of accidents and pedestrian fatalities.
While local government officials were game for the local improvements on the state roadway, they were not particularly thrilled with one aspect of the project: the wall. Portions of West Cervantes will feature a barrier dividing the roads directional lanes, encouraging pedestrians to use designated crossing areas; critics of this aspect of the project have pointed out that the barrier will disrupt the flow between neighborhoods on either side of West Cervantes.
On Monday, Mayor Robinson said that his feelings about the wall — some of which has recently made its debut — have not changed: "It wasn't exactly what we wanted, but we are gonna try to work with it."
"Were we exactly happy with the barrier? No." the mayor said. "We tried to soften it as much as we could to make it more landscaped, but, you know, it is what it is, and we'll have to live with it."
Robinson went on to praise other elements of the West Cervantes FDOT project, saying that slower traffic would increase safety in the area and boost commercial opportunity in the corridor.
"Our goal was to negotiate as best a deal as we could for our citizens over there," the mayor said. "We believe the traffic signals will do a better job of slowing traffic, creating crossing opportunities and rejuvenate some of the neighborhood commercial — I think the reason you don't have neighborhood commercial there anymore is because you've got cars just flying through there."
To make his point about better commercial prospects along West Cervantes, Mayor Robinson pointed to other areas nearby — like East Cervantes, MLK, Haynes and Davis — where he said the addition of traffic signals had positive impacts.
"We've seen commercial opportunity come back because traffic slows down," he said. "There are opportunities at the lights, and there's really a chance for people to do business rather than just fly by at high speeds."
Bayview Sports Rental
The city recently unveiled its new community center at Bayview Park, on the banks of Bayou Texar, just before it empties into Pensacola Bay. On Monday, Mayor Robinson noted that the facility now features the newly opened Bayview Outdoors Pursuit Center, where people can rent SUPs, kayaks and other items.
"I mean, these are nice paddleboards, really nice kayaks and bikes you can go down there and rent," Robinson said, adding that there were both short-term and long-term rental options. "I highly encourage you to go out and take advantage of this. It's a great opportunity to go out on the water and see what's out there on Bayou Texar, and it's a beautiful place to be and great recreational amenity."