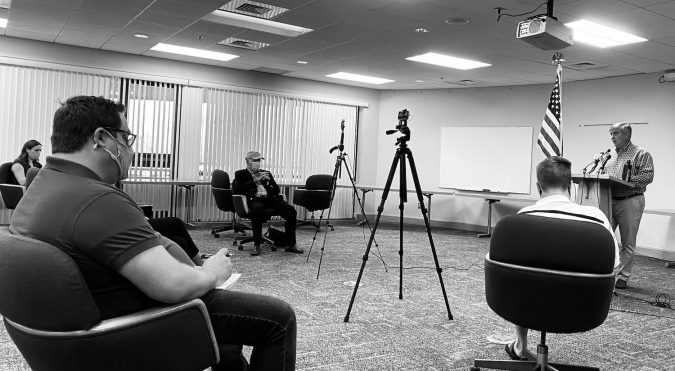 For the past two days, we have transferred the blog, 14 years of posts and images, to a new server – one that is faster and more secure. Jeremy Morrison turned in this story on the Mayor Grover Robinson's Monday presser on Tuesday.
Presser Notes: Waiting It Out
by Jeremy Morrison, Inweekly
When the Pensacola City Council convenes this week, it could well represent the end of an era of sorts, noted Mayor Grover Robinson on Monday.
"This will be the last meeting for a number of council members," the mayor said during his weekly press conference.
In particular, this week might be the final hurrah for District 1 Councilman P.C. Wu, who's currently in a razor-thin runoff with challenger Jennifer Brahier.
"P.C. has been an institution here," Robinson said of the councilman, who has served or 15 years. "I mean, when you go to Northwest Florida League of Cities, the major award they give is the P.C. Wu Award. He's been an important ambassador for us and the city across the state of Florida."
The District 1 race has already undergone a recount, resulting in a win for Brahier, but only by five votes. Robinson explained that the race was "very tight" and officials, intending the certify the results by Friday, are awaiting five additional mail ballots currently en route from overseas.
"I came home last night and heard the recount and I called both P.C, and I called Ms. Brahier and I, you know, talked to both of them and both of them said they were waiting to see what was going to happen with the potential five votes that might come in."
Asked why he felt voters appear to have voted Wu out, the mayor said it was like due to a host of reasons — like the council's actions pertaining to constructing a soccer complex off Langley Avenue, as well as its actions pertaining to downtown's Confederate monument or the COVID mask order — but also because it's a year heavy with change in general.
"I think it's common for electorates to experience traumatic periods like this," Robinson said.
The mayor recalled the 2008 as "another period of significant change, turmoil and challenges," and recounted how that year's election — left the five-member county board with four new members. This year's election, if Brahier's lead holds, will similarly impact the city council.
"We could potentially find ourselves, as a city, with six city council members with less than two years experience," Robinson said. "And I think that speaks to time."
President Who?
Insofar as the presidential election goes, Mayor Robinson said he was pleased that Florida, and Escambia County, where he participated with the local canvasing board, played no part in holding up a final count.
"No matter how you feel about elections, one way or another, who wins or loses, I can tell you one thing, here in Escambia County it's the right way, they've done right," the mayor said. "The state of Florida obviously in 2000 was kind of the national joke, but I think we find ourselves 20 years later kind of the example."
Interestingly, Mayor Robinson referenced the presidential race as being ongoing, saying that the city could work with whoever is president: "However the ultimate election goes, we'll work with it and deal with it and move forward and interact."
"It seems like this is where we are going, where these things take longer and longer and longer to decide," Robinson said, saying that "one way or another we'll work with whoever's in there." "Obviously Florida voted for Trump, but if the national election goes — we'll work with whoever's there."
While the presidential election has yet to be officially called, the Associated Press and every other major news organization has declared Democrat Joe Biden the winner. On Saturday, Biden gave a victory speech and world leaders have been calling in with congratulations. Trump's campaign has filed a number of law suits targeting the election process in several states, but that effort doesn't seem to be going anywhere, with several of the suits already tossed.
Asked if he viewed the presidential contest to still be an open question, Mayor Robinson punted, saying he'd accept whatever outcome when it was made official.
"Whatever they certify, and who they send to the electoral college and how that then votes, that'll be the way it goes and I will support whatever happens in that context," he said. "I will believe whatever they end up certifying, that's what ends up happening and we'd move on as a country and go forward."
COVID Numbers Up
The number of COVID cases are up above 14,000. More worrisome, testing positivity rates have also been shooting up.
"Clearly we've seen our positivity numbers go up," Robinson said Monday. "It hasn't translated as much into hospitalizations at this particular time. But it will be interesting to see over the weekend what happened."
Though it's gone down some, the area's positivity test rate had risen to 10.56 percent. And hospitalizations actually did shoot up to 64 individuals before going back down.
"I think we're back at 59," the mayor noted.
These numbers are important not just as a point of measurement when it comes to keeping track of the coronavirus, but also because the mayor has pegged 50 hospitalizations as the threshold for city actions, such as an emergency order or a mask mandate.
The mayor said the city was closely monitoring the hospitalization rates, but that he wondered if the rise in case numbers and the positivity rate, absent of an significant increase in hospitalizations might indicate the coronavirus was losing some or its virility.
"Right now, what we're staying up on is both trying to understand our positivity rates and our hospitalizations and tracking and see what they do," he said. "And if they go in different directions, that's not necessarily a bad thing either."
Currently, the city does not have an emergency order in place. The Pensacola City Council has elected to leave a mask mandate in place, but moves at the state level have taken any enforcement authority off the city's table.