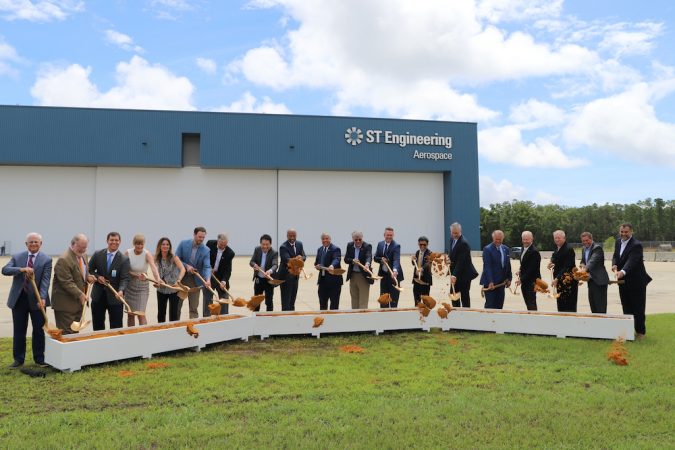 In December 2019, Mayor Robinson and Bill Hafner, chief integration officer for ST Engineering Aerospace in Pensacola, announced that Project Titan would begin in 2020.
Project Titan would build three more hangars – at a cost of $210 million – that would handle even larger planes than the current hangar and create 1,700 jobs.
"We're glad to have hangar one, but we're ready to get two, three and four going," Robinson said. Pointing out the promising projections surrounding the aviation industry, particularly the MRO sector, Hafner added, "We need this space, we need this growth, the opportunity is there."
Then, COVID-19 hit, putting the expansion on hold.
Inweekly sat down with Hafner and Scott Luth, FloridaWest CEO,before the yesterday's groundbreaking to learn more details about Project Titan.
"Today is a real groundbreaking," said Hafner. "It's not just shovel; there's actually equipment out there."
Most of the site preparation has been done, and the construction area fenced off. Permits have been acquired for all the TSA requirements. He said, "It's expected that we'll be complete in September 2022, and we should be occupying the building before the end of the year."
The new hangars will be large enough to hand A300 wide-body planes, which will require the hiring of a greater density of employees. On the day of the groundbreaking, the first hangar had four UPS planes and a fifth parked on the tarmac. The larger MRO hangars will be able to work on two wide bodies at the same time.
The second hangar will complete Element 1 on the east side of the field. Hafner said, "The two hanger bays, which are actually four bays, two large hangars co-joined, will be backed up by a large support services building. Support services center, we call it, and an admin building as well. All integrated into one large structure."
Element 2 involves two more hangars to be built on the other side of the airport, near 12th Avenue. When both elements are completed in 2024, Hafner said, "This will be the largest MRO campus in the country. I mean, you're going to be very near in the neighborhood of a million square feet under roof. I'm not aware of a larger one in the United States than that."
He said Pensacola has an advantage because the Pensacola airport offers carriers "revenue in and revenue out," meaning the planes don't have to be ferried empty to the MRO. Hafner added, "We're getting a tremendous amount of interest from our customer base. Everybody that tours this facility and sees the airport. All of our customers, United, American, and others, are very interested in being here."
He added, "I got to give your leaders credit. I mean, they really are thinking ahead. It's not just us; there's a lot of other things they are doing that make a lot of sense."
---
At the groundbreaking, Mayor Robinson said, "This is a great day, but this is not just a great day for Pensacola. This is a great day for Escambia County and Northwest Florida."
He touted Project Titan for its collaboration. The mayor said, "People talk about it all the time. But what does it really mean? What it means is, when you have a federal government, a state government, and two forms of local government, as well as a corporate partner, come together to figure out how to pool $210 million to create pretty tremendous assets that will provide for nearly 1300 jobs."
County Commissioner Jeff Bergosh called the MRO facility "the manifestation of leadership." Pointing to the hangar completed in 2018, he said, "Leadership brought all the stakeholders together, put aside the naysayers, collaborated and put together all the money necessary and resources to build that. And now three years later, you look over there, we've got jets coming in, jobs happening, and now we will move onto the next stage, Project Titan."
Jeff Lam of ST Engineering talked about the positive outlook for the MRO market, which is expected to double over the next six years. He also stressed his company's commitment to the Pensacola-based Aviation Training Academy that will train the next generation of aviation maintenance technicians.
"I wish sincerely on Pensacola much success in the further building up of its aviation industry," said Lam, "and I am sure that these hangars, for which we are laying the foundation today, will further advance our shared goals."