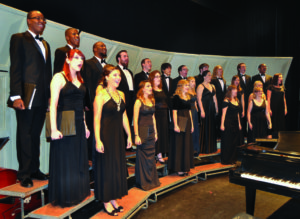 Press release: The Pensacola State College Concert Chorale and Jazz Choir present a free concert at 7:30 p.m. Friday, Oct. 9, at the Ashmore Fine Arts Auditorium, Building 8, on the Pensacola campus.
No tickets are required. Seating begins at 7 p.m.
The Concert Chorale begins with classical selections including Joseph Haydn's "Awake the Harp" and Jules Massenet's "Ouvre Les Yeux Bleus."
The Chorale also performs traditional songs and spirituals, such as "Peter, Go Ring dem Bells" by Andre Thomas.
Rounding out the show, the Entertainers Jazz Choir performs several popular selections, including Billy Joel's "New York State of Mind," Rodgers' and Hammerstein's "This Nearly Was Mine" and Mac Huff's arrangement of "Can You Feel the Love Tonight."
Featured vocalists are Robert Arnold, Justin Haubner, Chris Mandel, Joshua McLamb, Olivia Neal, Shannon Nipple, Tucker O'Connor, Lori Perko, Isabelle Peterson, Karletha Powell, and Alicia Umbreit.
PSC Choral Director is Xiaolun Chen and accompanist is Ila Brown.
For more information, call the Lyceum Box Office at 850-484-1847.