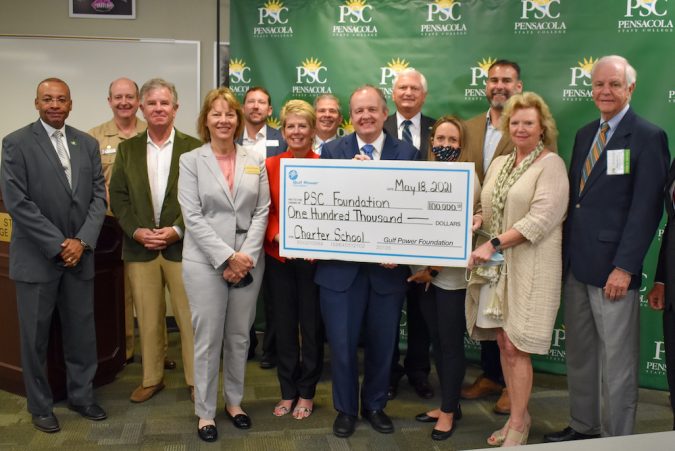 Pensacola State College (PSC) has announced plans of a dual-enrollment charter school with the primary focus of providing educational opportunities for students who come from military families in addition to those who may be at-risk.
The school will include a state-of-the-art Technology Innovation Center, funded by a generous $100,000 leadership gift from the Gulf Power Foundation, also announced today. This gift will ensure instructors and students have access to cutting-edge technology and equipment to enhance instruction and explore careers in high demand fields of study.
With a targeted opening date of August 2022, the school will be located on PSC's Warrington campus. Enrollment will be offered to students in 10th, 11th and 12th grades. Education tracks to be offered include both pre-collegiate and collegiate, offering the students the potential to graduate with a high school diploma and/or an associate degree.
The impetus for the charter school came from strategic meetings between PSC and Naval Air Station Pensacola leadership.
"We are honored to celebrate Gulf Power Foundation's investment in the heart of our community by ensuring that students of military families along with others have access to education through a school that can fast-track them to an associate degree while they are completing their high school education,'' said PSC President Ed Meadows.
"Preliminary discussions with Escambia County secondary school officials and the State Board of Education staff are very positive. We are in the process of completing the application and look forward to presenting it to the PSC Board of Trustees in late summer or early fall."
Gulf Power Foundation's gift continues a legacy of an educational partnership between Gulf Power and PSC that is committed to invest in the future of our future leaders. Gulf Power and the Gulf Power Foundation have been valuable partners to PSC, previously providing $616,000 to support the college's mission and commitment to higher education, said Andrea Krieger, Executive Director of Institutional Development. In addition to contributions to PSC Foundation campaigns, contributions have helped support scholarships, a multicultural honors program, the automotive technology program, SkillsUSA and the PSC Nonprofit Center for Excellence and Philanthropy.
"We are honored to be part of the mission of Pensacola State College to support our military families and other students through additional educational opportunities that provide the learning environment to grow their skills in the innovations and technology space," Mike Spoor, vice president of Gulf Power, said at the event. "One of the great attributes of the Pensacola community is the willingness to work together to find solutions that give our students expanded opportunities and brighter futures. That is what you see here again today, and we appreciate being a part of it."
U.S. Navy Capt. Tim Kinsella, Commanding Officer Naval Air Station Pensacola was very pleased and encouraged by today's announcement.
"Improving educational opportunities for the military children in the Pensacola area has been a goal of mine since I assumed command of NAS Pensacola. Creating a charter school will not only benefit the military families in the area, but all families who live in Pensacola who are seeking additional educational opportunities for their children," he said.
Officials from Gulf Power and PSC encouraged other businesses to consider supporting the Pensacola State College Charter School (PSCCS).
"The PSC Foundation hopes other companies and individuals will see the value of this investment and will join Gulf Power Foundation by contributing to this effort,'' Krieger said. "Gulf Power's gift comes from their recognition of the importance of serving military families and at-risk students in our region and creating additional learning opportunities in the technology and innovation center."
Companies and individuals interested in financially supporting this initiative should contact Andrea Krieger at 850-484-1477 or akrieger@pensacolastate.edu.