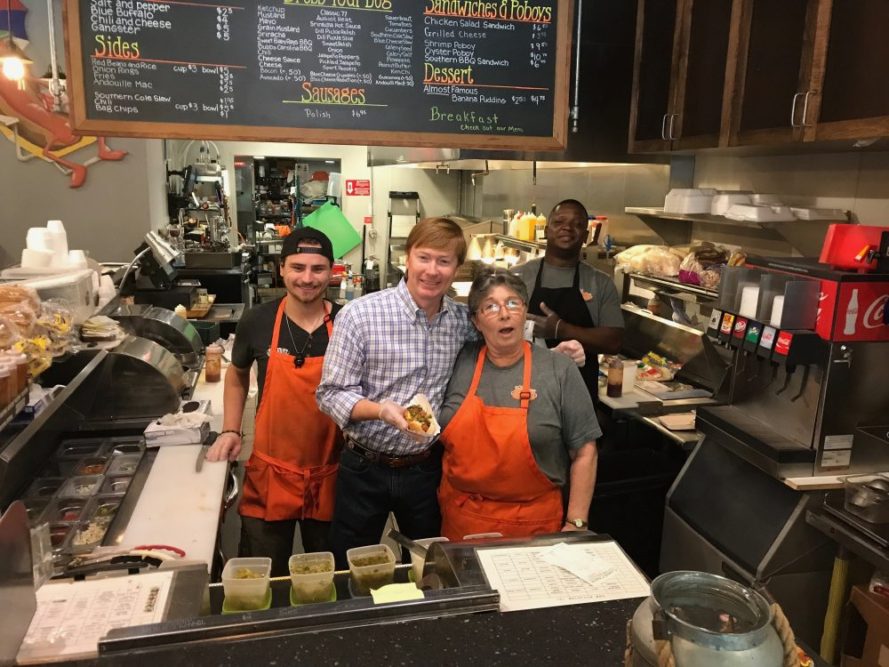 Florida Agriculture Commissioner Adam Putnam announced two weeks ago his candidacy for the Republican nomination for governor. Gov. Rick Scott terms out in 2018, and the race is considered wide-open.
On May 19, Putnam met with small businesses in Pensacola for a roundtable discussion on the Gulf Coast recovery at the Dog House Deli. The visit was near the end of his 10-day, 22-city bus tour through the state. Inweekly caught with the candidate as he was driving into the Pensacola.
He believes in incentives to attract businesses to the state and in tourism marketing. He describe the 2017 legislative session as "chaos."
"It's just pure 'd' chaos. You know, I am so frustrated by this," Putnam told Inweekly. "I don't understand the type of arrogance and complacency that would set in where you would say, 'Ah, we're Florida. People will just show up.'"
He continued, "People didn't just show up in '08 and '09 when we were deep in the depth of the biggest dark hole that we'd ever been in since the Great Depression. You know, we had sunshine then, and we had low taxes then, and people stopped coming. In fact, there was a net out-migration out from Florida. Then you layer on that the spill, and you layer on that all the other challenges we had. Florida has always marketed itself for tourists, and we need to continue to do that."
He believes it would be a mistake to walk away from the programs that have helped attract businesses like Navy Federal Credit Union and VTMAE to Escambia County and not support the "pillars of our economy" like tourism.
"For us to not look for opportunities to diversify and build our supply chain, build manufacturing, create opportunities around the military bases that we're fortunate to have up and down the Panhandle, it's a complacency that you would never allow to creep into your own business," he said. "I wouldn't let it creep into my business, and I don't know why we're letting it creep into the state."