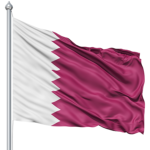 Ambassador Mohammed Jaham Al-Kuwari from Qatar was in town today to speak at the Panhandle Tiger Bay Club. At the meeting, he announced a $10,000 gift from his country to ARC Gateway.
"I was given a tour today of the baseball stadium and was told about a fundraiser last night for the organization," Ambassador Al-Kuwari told me in an interview at the Crowne Plaza this afternoon. "I said that I was sorry that I missed it, but wanted to contribute to the cause."
The ambassador said that he had met this morning with Escambia County Commissioner Doug Underhill and Mayor Ashton Hayward. When we finished, he was headed to the University of West Florida to talk with Dr. Judy Bense.
I will publish our interview in the Dec. 18 issue of Inweekly.