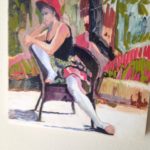 Press Release: If we are fortunate in life, we meet people who bring us joy for a lifetime. That is the essence of this exhibit…friendship, community, sharing. The 12x12x12 show is nothing new to Quayside, but the artwork is a continuation of experiences. Seven years ago this group of artist exhibited together. "It was so much fun we decided to do it again" affirms Darlene.
Mary Blanos has chosen a cross theme. "I am using a new technique with jewels for my paint on the works presented."
"I enjoyed working with diverse subjects and different mediums," Linda Doss states of her latest work which reflects experiences of summer 2013.
Marian Guthrie's artwork features an array of Pensacola. "I am an oil painter learning to work in the Colorist Tradition."
Darlene Homrighausen is trying something new, abstract landscapes. "They are so much fun to paint, I may do another twelve!"
"I always become involved in the process of making art and allow myself to be free to discover new ways of expressing an idea." Lynn Robinson is inspired by the city and rural riches that abound in Europe, especially Italy, as well as a personal sense of spirituality.
Etoyle Sermons indicates "my work reflects the beauty of nature…things found in it or related to it."
Painting and traveling have been an important part of Mailande Turner's life. "Both introducing me to fun, exciting learning experiences. My paintings show places high on my bucket list, including Pensacola."
This is a show that offers the viewer an opportunity to see and experience a wide variety of artistic expression thru travels and personal experiences. Join us as we observe the camaraderie of twelve.
Quayside Art Gallery
15-17 E. Zarragosa
Pensacola, FL
850-438-2363
www.quaysidegallery.com
Feature Artist Show: "12 x 12 x 12"
Feature Artists: Joyce Bennink, Mary "Tootsie" Blanos, Linda Doss, Donna Freckman, Marian Guthrie, Darlene Homrighausen, Marianne McDonald, Pat O'Neal, Patsy Pennington, Lynn Robinson, Etoyle Sermons, Mailande Turner
Reception: 5-8 p.m. Friday, October 24
Show Exhibits: October 16 – November 24