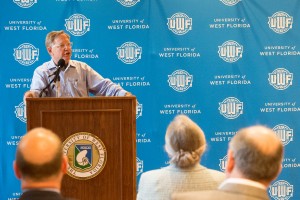 Quint Studer will discuss today his decision to withdraw his offers for parcels 3, 6 and 9 at the Community Maritime Park.
He told me that he's ready to move on to other options and has shied away from interviews since last night's broadcast on WEAR TV, but Quint had already committed to do the interview on "Pensacola Speaks." My original intent – when I booked the interview – was we would get an update on the negotiations, but the mayor's press release yesterday has changed that.
I'd love to hear your thoughts on sudden change of events at the Community Maritime Park. Call in after the interview – 850-478-3116.
Pensacola Speaks airs on News Talk 1370 WCOA Monday-Friday from 5 p.m. to 6 p.m.  For iPhones and iPads, download the WCOA app from iTunes. For Androids, go to Google Play.