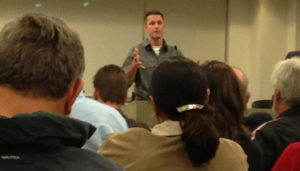 A collection of local environmental organizations have selected Christian Wagley to represent environmental concerns on the Escambia County Commission's RESTORE Act advisory committee.
Wagley, who owns Sustainable Town Concepts, an environmentally focused consulting firm, said he considers environmental restoration a priority when it comes to RESTORE funds.
"Because it was environmental damage that caused this mess," he told the roomful of environmentalists Tuesday night.
Wagley will be sitting among a nine-member RESTORE advisory committee, which will be assessing potential uses for Escambia's portion of the eventual Clean Water Act fines levied against BP for the 2010 oil spill in the Gulf of Mexico . Other seats on the committee will be focused on fields such as finance and transportation, and the commissioners themselves have said they're looking for economic development and infrastructure projects.
"All environmental projects are economic development projects," Wagley said. "You can't say the same about all economic development projects."
In addition to his Sustainable Town Concepts, Wagley has also worked in county and state government environments. He oversaw environmental and green-building issues for the new town of Alys Beach in Walton County, developed a pedestrian and bicycle-friendly master plan for Bagdad, Fla. and also recently sat on Pensacola Mayor Ashton Hayward's Urban Redevelopment Advisory Committee.
Wagley was selected to sit in the RESTORE committee's green seat by a wide margin, receiving 15 of the possible 22 votes. Coming in second was John LeRoy, a retired airline pilot and spokesperson, with four votes. The remaining three votes were split between three other candidates.
"Is that clear enough, or do you still want to do a runoff?" Escambia County Community and Environment Department Director Keith Wilkins asked after the vote.
"Clear enough," replied the room collectively.
Before the vote was taken, Wagley was asked how he planned to navigate an advisory committee as the lone voice for the environment. He said he would approach the committee with a spirit of "goodwill," but noted that he would not shy away from environmental concerns in an atmosphere where other interests were being emphasized.
"There's going to be some things, likely, that are going to be so egregious that you've got to raise your voice," Wagley said.
The environmental pick also said that he felt it was important for environmentalists to attend and participate in the advisory committee process to show that such values are important in Escambia.
"That's going to be a big part of it," he said. "This is the biggest thing that's happened here environmentally in decades, if not ever."
In order to arrive at an environmental representative for the RESTORE committee, Escambia officials brought the collection of 22 local environmental groups together. Wilkins said he felt the assembly should take advantage of the moment.
"This is the most comprehensive gathering of environmental groups that I've seen in Escambia County," the director said. "I think it's a great opportunity to get to know each other, perhaps establish some sort of cohesiveness … I would just challenge y'all to carry this forward."