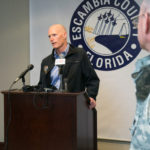 Gov. Rick Scott announced today that Navy Federal Credit Union (NFCU) will create 5,000 new jobs in Escambia County over then next 12 years.
"Today's announcement that Navy Federal will create 5,000 more jobs for Floridians is a huge win for the Florida families," Scott said. "Because of companies like Navy Federal, we have created 651,300 private-sector jobs since December 2010, and we will continue working hard to create jobs so that every Floridian can live the American Dream."
"This is our largest expansion in Pensacola thus far," said Cutler Dawson, the president and CEO of Navy Federal, on Wednesday. "It underscores what we've long been saying about this great community—it's a great place to grow your business and a wellspring of talented people to employ. Continued growth for Navy Federal not only signifies the strength of the credit union, but also means upholding our high standards for member service. It takes the best to serve the best, and that's why we continue to invest in Pensacola."
According to the plans announced to day. the total number of employees on the Navy Federal campus in the Beulah area to 10,000 by 2026 and increase the overall capital investment to $1 billion.
In 2014, Navy Federal has added 530 jobs, bringing its current total in the region to over 3,800 employees.
To view the expansion plans, click here.