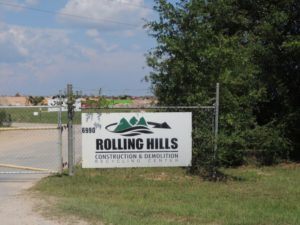 Press Release:
Today the Escambia County Division of Code Enforcement cited the owners of the Rolling Hills Landfill, located at 6990 Rolling Hills Road, for failing to comply with a ruling issued by a Special Magistrate.
During today's inspection of the area surrounding Rolling Hills, Escambia County Code Enforcement found the landfill was in violation in two areas:
1. Offensive odor from the landfill was noticeable outside the landfill's property line
2. The landfill's mound was clearly visible to those outside of the landfill's fence
Per the Magistrate's order, the management of the Rolling Hills Construction and Demolition Debris Landfill will be fined $200 per violation, per day until the violations are abated.
In the ruling issued on March 13, the Special Magistrate also gave Escambia County the authority to take appropriate steps to stop the flow of truck traffic into the Rolling Hills CD&D landfill property, if necessary, in order to expedite the abatement of violations on the Rolling Hills property if the violations are not corrected by May 14.
For more information, please contact the Office of Public Information and Communications at (850) 595-3476 and follow @MyEscambia on Twitter.