Two weeks ago, residents from the Wedgewood and Longleaf communities spoke out at a Escambia Board of County Commission meeting against the numerous construction and demolition debris facilities in their area.
What county staff failed to tell citizens and the commissioners was that at least one of the facilities may be in violation of its county permit.
Commissioner Lumon May met with constituents on Tuesday, June 10 at the Marie Young Community Center, which is built on the site of the old Wedgewood Middle School and located next to the Rolling Hills C&D Recycling Center. He listened to residents complain about the dust and fumes coming from the facility.
A debris mound at Rolling Hills towers over the neighborhood. As a bulldozer worked on the mound, clouds of dust drifted off the property onto surrounding houses, streets, baseball fields, basketball courts and playgrounds. The smell was overpowering at times.
Escambia County has the means to make South Palafox Properties, LLC, the owner of Rolling Hills, operate safer and be a better neighbor to the residents. The permit that the BCC approved in February had 16 specific conditions under which Rolling Hills must operate:
"Footprint setback shall be a minimum of 500 feet from the property boundary…"
–The debris mountain appears to be less than 500 feet from the property line next to the Wedgewood community center land and a nearby residence.
"At no time shall the working or operational height exceed the permitted height or be visible from beyond the property line…"
–Photos should that the debris mountain is clear visible from the community center that is over 100 yards away from it.
"Active dust suppression is required to prevent dust migration off site."
–Dust clouds were visible on June 10. Residents said that wasn't uncommon.
"No person shall cause, suffer, allow or permit the discharge in the air of dust, fumes, gas, mist, odor, smoke or vapor, or any combination thereof, so as to constitute a nuisance as defined in county ordinance 2006-24…"
–Residents have voiced complaints at several BCC meetings
The Independent News called Commissioner May Sunday night. He was shocked to hear that Rolling Hills may be in violation of its permit and that county staff never mentioned it to him or his fellow commissioners.
"The people in Wedgewood have been suffering for years, and the county has done nothing but renew Rolling Hills' permit every year," said May. "I am stunned. I will be having a heated discussion with staff on Monday morning. "
He said, "What the good are our ordinances if county staff won't enforce them?"
The Independent News has put in a public record request for any inspection reports that the Escambia County Solid Waste Management Department may have on Rolling Hills.
Here is the copy of the permit: 5632_Rolling Hills CD Permit 2-2014 to 2-2015.
Photos which are quite a contrast from its website: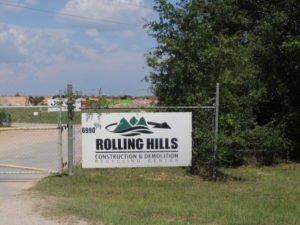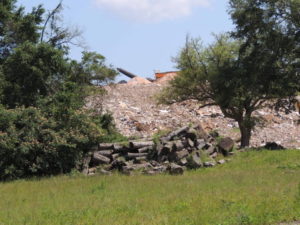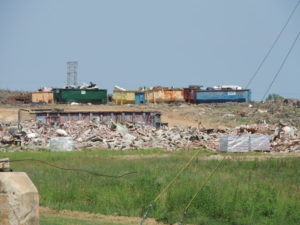 Here is a FDEP photo from March 2011 that shows the lack of a dust suppression system three years ago: