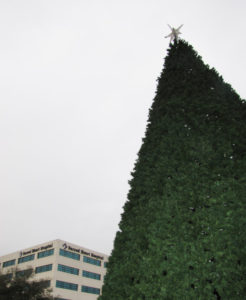 Sacred Heart Hospital will host its annual Christmas Tree Lighting ceremony on Monday, Nov. 30 at 5 p.m. All community members are welcome to attend.
The tree will be lit by this year's "Miracle Child," who is a patient of The Children's Hospital at Sacred Heart. Santa will be available for photos, and the Oakcrest Elementary School student choir will lead attendees in singing Christmas carols. Holiday refreshments will be provided.
The Christmas Tree Lighting will take place in the courtyard between the hospital's Emergency Room and Conference Center – 5151 N. Ninth Ave. in Pensacola. Guests are advised to park in the Ninth Avenue parking garage. In case of rain, the event will be held in the hospital's Greenhut Auditorium.