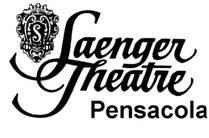 Press release: On October 1, the dedicated Saenger Theatre volunteer usher corps were recognized for their service to the Saenger, the local arts groups and to the community with an annual appreciation dinner held at the Saenger Theatre. Collectively, the more than 80 volunteers, from the period of Oct. 1, 2014 through Sept. 19, 2015, gave an astounding 7,480 hours of service. From greeting patrons with a pleasant smile, to escorting them to their seats, the Saenger Theatre ushers provide a very useful service to the Theatre and the guests attending shows there.
The usher who recorded the most shows volunteered this year (66 shows – about 330 hours) is Pat Dyehouse who has volunteered at the Saenger since 1996. Rounding out the top five volunteers are Drusilla Burrows and Gwen Clark both with 52 shows (260 hours each); Laurie Flynn (volunteer since 1988) with 55 shows (275 hours); Annette Massicotte with 63 shows (315 hours); and Carol Maniscola with 65 shows (325 hours). Incidentally, Laurie Flynn is the volunteer with the longest record of service as an usher at the Saenger Theatre.
"I celebrate and thank you loyal volunteers for your dedicated service to our community," said Marketing Director, Kathy Summerlin during the presentation. Without out their unselfish giving of their time, many of our local arts groups would find it difficult to afford presenting a show in the Saenger Theatre if they had to pay for the staffing that the volunteers provide.