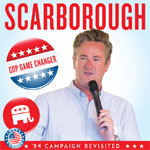 Former Congressman, once Publisher emeritus for Independent Florida Sun, and current co-host of "Morning Joe" Joe Scarborough may consider a run for Bill Nelson's U.S. Senate in 2018. On the Hugh Hewitt Show, Scarborough said that he has ruled out a presidential run next year, but he left his options open for 2018.
"I've always said that, at some point, I wanted to get back into public service," he told Hewitt, "and hopefully I can do it while a Republican is in the White House."
Scarborough said that he has kept a residence in Florida. "It feels more like home every day."
He said, "…you know — in '18, Bill Nelson's up, and I don't think Bill Nelson will be sticking around," Scarborough said, referring to Florida's senior senator, a Democrat. "So, you know, one of these years, I think one of these years, if I did something, I'd probably — I'd probably look to run in Florida."
Who would be Scarborough's opponent for the GOP nomination? The Miami Herald thinks it could be Gov. Rick Scott.