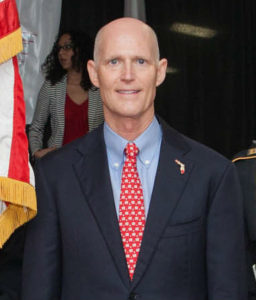 Governor Rick Scott today announced a $79.3 billion state budget for the fiscal year starting July 1, 2016.
One state department that is happy is the Department of Economic Opportunity because the $79.3 billion budget proposal includes $1.3 billion for economic development.
The Florida First budget includes proposals to reform the incentive process and create the new Florida Enterprise Fund to make Florida more competitive and help further diversify the economy, according to a DEO press release.
Governor Scott said, "We are working every day to beat our number one competitor, Texas, in job creation and to diversify our economy so Florida is prepared if another national recession were to hit. Florida has had the highest job growth rate of any large state for seven months in a row, and is well on the way to becoming first in the nation for jobs. We will continue to make strategic investments in economic development so future generations can succeed in Florida no matter where the national economy stands."
DEO Executive Director Jesse Panuccio said, "With the Florida First budget, Florida will be well-positioned to continue its nation-leading economic resurgence. Our economic story shows that pro-growth policy works – low taxes, sensible regulation, and investments in critical infrastructure and our workforce. The Florida First budget supports all of these priorities, and will help Florida continue on its path to becoming the job creation capital of the country."
The Florida First budget includes:
$25 million for Enterprise Florida Operations to Make Florida More Competitive for Job Wins

The Florida First budget also invests $250 million in one-time funding to create a new competitive fund called the Florida Enterprise Fund, which will be a state trust fund to replace the existing escrow account to allow the state's investment to accrue more interest.
Governor Scott has also proposed increasing the Legislature's role in competing for job creation projects by requiring that any deal more than $1 million have the approval of the Speaker of the House and the Senate President, as well as the Governor, and reforming the return on investment requirements by eliminating the use of waivers and requiring a 10 percent average annualized return on top of the original amount invested in a company.
The Florida First budget also invests $1 million to continue two highly successful export diversification and expansion programs that help diversify Florida's economy and increase Florida's international trade and exports through Target Sector Trade Grants and Export Marketing Plan assistance.
EFI President & CEO Bill Johnson said, "The Governor's Florida First budget includes reforms for Enterprise Florida that will take us to the next level for job creation and economic development. These reforms are critical to helping us diversify our economy, which is our primary goal. I look forward to working with our partners in the legislature to implement these proposals and make Florida first for job creation."
$3.5 million to Fight Fraud in the Reemployment Assistance Program
The Florida Department of Economic Opportunity has made fighting unemployment fraud a priority, stopping 135,000 fraudulent identity theft claims and saving an estimated $558 million in less than two years. This funding will help Florida become first in the nation for reemployment assistance fraud prevention and detection.
$80 million for VISIT FLORIDA to Promote Florida as the #1 Tourist Destination
The Florida First budget invests $80 million for VISIT FLORIDA, which is an increase of $30 million, to build on its success in attracting record numbers of tourists to the Sunshine State.
Will Seccombe, President and CEO of VISIT FLORIDA said, "I would like to thank Governor Scott for his visionary leadership and his recognition of VISIT FLORIDA's ability to deliver a significant return on the state's investment in tourism marketing, as well as the industry's ability to create jobs. With this funding, VISIT FLORIDA will focus on continuing to create successful integrated global marketing efforts that maximize the economic impact of travel and tourism to Florida."
$18 million to Train Florida's Workforce to be the Top STEM Workforce in the Country
This funding includes $15 million for the Quick Response Training (FloridaFlex) and $3 million for the Incumbent Worker Training Program to provide customized training and effectively retain and keep businesses competitive by upgrading the skills in an existing workforce.
CareerSource Florida President and CEO Chris Hart IV said, "Florida's economic vitality depends on a well-trained, skilled workforce that meets the needs of our growing industries such as advanced manufacturing, aerospace, homeland security and information technology. The Governor's recommendations demonstrate his commitment to making Florida a global leader for talent."
$17.5 million for Space Florida to Keep Florida First in Space

This funding will help diversify our economy and make Florida the world leader in developing tomorrow's aerospace enterprise.
Frank DiBello, President of Space Florida, said, "Florida has long led the world in space exploration. The Florida First Budget highlights the State's commitment to both a high-skilled workforce as well as the future of aerospace. We must continue to lead the nation by investing in this ever-expanding aerospace industry."
$2.3 million for Community Development and the Competitive Florida Partnership
This funding provides disadvantaged communities with the support and resources needed to diversify and grow businesses.