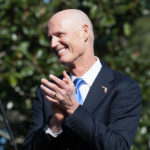 By BRANDON LARRABEE
THE NEWS SERVICE OF FLORIDA
In a surprising setback for Gov. Rick Scott, the Republican Party of Florida's executive committee voted Saturday to unseat Chairwoman Leslie Dougher, instead elevating state Rep. Blaise Ingoglia to the top position.
On the second ballot in what was initially a four-candidate race, Ingoglia — who had served as vice chairman of the party since 2011 — carried 132 votes, to 90 for Dougher, who had Scott's support. The vote is believed to be the first time that a governor's favored candidate to lead the Republican Party of Florida was rejected by the committee.
Speaking with reporters after winning a two-year term, Ingoglia effusively praised Scott and played down the significance of winning the vote despite Scott's support for Dougher, who also had the backing of GOP legislative and party leaders.
"This race was about the vision and the future of the party and the things that we wanted to do to make sure that we win 2016," Ingoglia, R-Spring Hill, said.
Ingoglia, 44, led Dougher by one vote on the first ballot, 80-79, with 65 votes divided between former state Rep. Kurt Kelly and Eric Miller, a Republican state committeeman from Martin County. The announcement of his victory on the second ballot set off a round of applause that lasted nearly 40 seconds.
Joe Gruters, chairman of the Republican Party in Sarasota County, was elected vice chairman of the statewide party.
In a meeting following Ingoglia's election, RPOF Executive Director Juston Johnson told party officials that he was stepping down.
Scott, who left the Rosen Plaza Hotel shortly after Dougher's defeat, issued a terse statement about the vote.
"Leslie did a great job as Chairwoman," Scott said. "We had a successful election and that's why I voted for her. The delegates made another choice which is their prerogative."
Dougher's loss came despite leading the party to sweeping victories in November. The GOP reclaimed a two-thirds majority in the state House, held onto a sizable edge in the state Senate and saw Scott and all three Cabinet officers re-elected. Dougher was trying to win a two-year term. She took over the party in May, when Curry left to focus on a bid for mayor of Jacksonville.
"I may have jumped on the proverbial speeding freight train in May, but I have no intentions of slowing down," Dougher said in her speech to committee members, shortly before they voted to derail her.
Dougher had the endorsement of many members of the GOP establishment, including Senate President Andy Gardiner, R-Orlando; House Speaker Steve Crisafulli, R-Merritt Island; five former chairs of the party; and Sharon Day, co-chair of the Republican National Committee.
Dougher's loss capped off a particularly difficult week for Scott, who has faced questions in a separate controversy over the departure of former Florida Department of Law Enforcement Commissioner Gerald Bailey. It also magnified questions about how quickly Scott's influence might wane in his second term.
Some Republicans brushed off the idea that the vote reflected on Scott, who ran as an outsider four years ago.
"The governor just won a great election, a historic election, a huge election," said Curry, who also backed Dougher. "Look, we're strong as a party. This body, this membership spoke today, and Blaise ran a great campaign."
Dougher also dismissed the speculation.
"I just think it's the grassroots making a choice of who they want to lead for 2016, and that's good," she said. "We're all united behind it, and we're going to go in in 2016 and put a Republican president in office."
But when asked whether Scott might take a less active role in fundraising for the party given the vote, Dougher didn't answer directly.
"I guess we'll see, won't we?" she said.
Ingoglia expressed no doubts about being able to work with Scott on fundraising and other party issues.
"The governor cares deeply about the direction of this nation and the party," he said.
Ingoglia also said he wouldn't try to use his chairmanship as leverage to help his legislative priorities.
"There is a firewall between what we do legislatively and what we do with the party," he said.