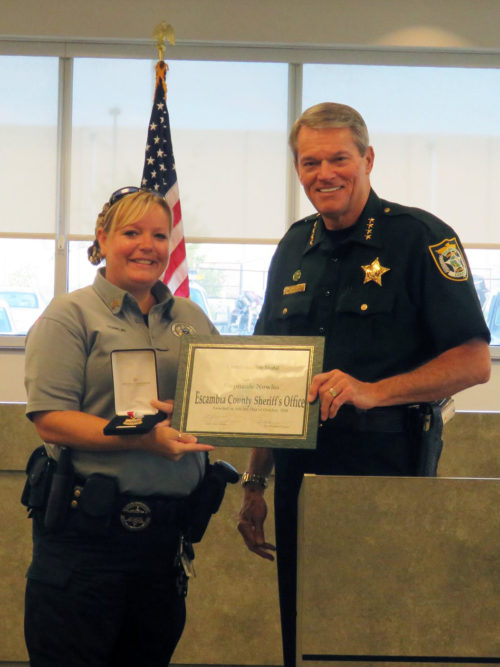 Sheriff David Morgan awarded Escambia County Animal Control Sergeant Stephanie Nowlin with the ECSO's Medal of Commendation Thursday morning at the Central Office Complex. Nowlin was presented the award for her service and assistance to the ECSO.
The award read:
"Sergeant Nowlin's knowledge and experience in regards animal cruelty cases makes her an asset to the Escambia County Sheriff's Office. She has successfully implemented procedures for Escambia County relating to livestock operations.
Sgt. Nowlin will respond to any issues that may arise at any time. She has put numerous hours into training and can handle any situation encountered in animal cruelty investigations. She is the "go to" person for livestock issues in the north end of the county. She provides guidance and assists deputies on a daily basis.
Stephanie investigates and presents animal cruelty cases directly to the state attorney for prosecution. She has developed a working relationship requiring little assistance from the sheriff's office.
Sgt. Nowlin is passionate about her profession and the well-being of animals. For her assistance to the ECSO, and her service to the citizens of Escambia County, Stephanie Nowlin was awarded the Commendation Medal on this 6th day of October, 2016."