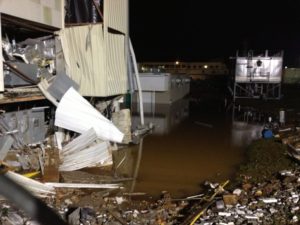 Sheriff David Morgan warned Interim County Administrator Larry Newsom in November 2012 not to restore the basement of the Central Booking Detention building to 'pre-flood conditions, without any safeguards against flooding" or the county would risk "a repeat of the consequences of the event of June 9, 2012."
Morgan provided in a letter to Newsom a list of possible damages if the county proceeded with its plans (which it did):
1. Central feed of all power is located in the basement. "If this area floods there is no power at all to a facility that can hold up to 697 inmates." Loss of power creates loss of sewage capability, computer systems go off-line and elevators for the five floors are useless, according to the sheriff.
2. The chiller units that cool not only the CBD, but other ECSO and corrections buildings are disabled.
3. Main boiler units in the basement were a total loss in June 2012. They would be again.
4. Inmate property and record storage would be a risk (a total loss in 2012).
5. The kitchen – which serves as a back up to the main jail – would be a risk (another total loss in 2012).
6. The same goes for the laundry facility in the basement.
Sheriff Morgan wrote, "I strongly object to restoring the facilities in the CBD basement to their original locations. Now is the time to relocate these critical functions to an above-ground site that will not be subject to critical services to the risk of becoming disabled in the event of a future flood or rain event."
His letter was copied to Commissioners Wilson Robertson, Gene Valentino, Marie Young, Grover Robinson and Kevin White. Since the commissioners owned the building, they had the power to ignore the sheriff's recommendations on the CBD, which they did.
On April 29,2014, the CBD basement flooded and an explosion occurred, killing two prisoners, paralyzing a guard and injuring over 200 inmates and correctional officers. The building is a total loss and will have to be demolished. The county is awaiting a report from the Bureau of Alcohol, Tobacco and Firearms on what caused the gas leak in the basement that led to the blast.
Read ObjectionbySheriff