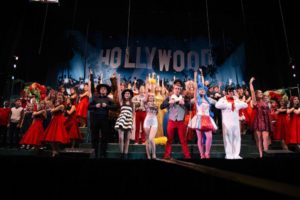 The Pensacola Children's Chorus, under the direction of Allen and Susan Pote, will celebrate its 25th Season as it presents the annual production of Showtime on May 8, 9 and 10th at the Saenger Theatre in downtown Pensacola. The 280 member chorus will perform a variety of creative themed segments including a medley of memorable musical moments from the last twenty five years entitled "25 Years of PCC", a hilarious spoof of fairy tales called "Once Upon a Fairy Tale". Other featured numbers include "The Best of Broadway", "Let's Go to the Movies", "Pitch Perfect" and selections from Grease and Sister Act.
As always, the chorus will be showcasing spectacular costumes, dynamic choreography and impressive staging.
Tickets go on sale through the Saenger Box Office and all Ticketmaster outlets.
Tickets prices are: $42.00, $36.00 and $26.00
Performance dates: Friday and Saturday, May 8 and 9 at 7:30pm and Sunday, May 10 at 2:30pm