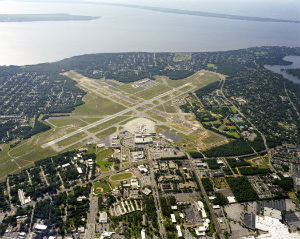 Looking for a quick New Orleans gateway? If you can convince your boss that you've got an afternoon meeting on the other side of town, you can catch Silver Airways 3:18 p.m. flight, starting on June 16.
However, getting back to Pensacola before the next work day won't be possible. Weekday return flights don't get in until 5 p.m.
In a press release yesterday, Pensacola Mayor Ashton Hayward said, "This new service links two of America's greatest and most historic cities, and connects Pensacola with new destinations, new markets, and new opportunities."
"We are thrilled to be bringing the airline of choice for Florida and the Bahamas to the Southeast," said Silver Airways CEO Sami Teittinen. "We look forward to providing customers with our convenient and much needed flights linking New Orleans with Birmingham and Pensacola, as well as one-stop connections to other Silver Airways destinations in Florida."
New Orleans becomes the fourth destination served by Silver from Pensacola International Airport, which also flies non-stop from Pensacola to Orlando, Tampa, and Jacksonville, with connecting service to Fort Lauderdale.
On weekends, the NOLA flight leaves Pensacola International Airport at 1:42 p.m.
Return flights from NOLA are:
Sat & Sun
Pensacola – New Orleans 1:36 pm ETA 2:41 p.m.
Daily except Sat & Sun
Pensacola – New Orleans 3:55 pm ETA 5 p.m.