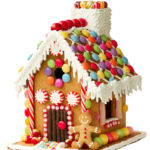 More than 100 gingerbread fans eagerly waited Wednesday night to learn who would be the winners of the 2014 SOGO Gingerbread House Contest. The ceremony was in downtown Pensacola capped off the month-long contest featuring gingerbread creations from across the area.
Back in November, a panel of seven judges, Julio Diaz, Angela Johnson, Donna Kirby, Brent Lane, Teri Levin, Brian Spencer, and Lonnie D. Wesley, III, judged the 45 entries. Judging was based on overall appearance, originality and creativity, and consistency of theme. Between the four categories, more than $10,000 in prizes was awarded; the Adult Baker Best of Show winner took home a cash prize of $5,000.
The winners are:
Adult Baker Best of Show: Charles Kunze, Gingerbread Mania with the Minions.
Adult Baker First Place: Kerry Jordan, Christmas Ice Company
Adult Baker Second Place: Amanda Dawson, Ginger Dive.
People's Choice: Andrea Miller, Twas the Day Before Christmas.
Fan Favorite: Betty Weber, Old Christ Church.
Teen Baker First Place: Kaitlyn Sanderson, Little Free Library.
Teen Baker Second Place: Alexis Faller, Pensacola by the Seasons.
Child Baker First Place: Charles Pratt, Play Ball.
Child Baker Second Place: Annie Pratt, SOGO to the Coast for Christmas.
The contest raised more than $7,600 for the Health and Hope Clinic, a not-for-profit organization that provides health care services to the uninsured in our community. Along with gingerbread entry fees and ticket sales from fan favorite voting, SOGO Gingerbread House Contest sponsors, Quint and Rishy Studer, also sponsored the Health and Hope Clinic's annual Christmas at the Clinic.