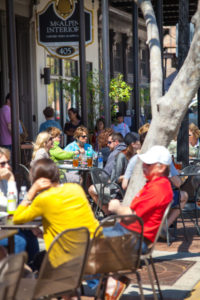 Press Release: Looking for something to do on a beautiful, spring Saturday? Come and enjoy Pensacola's beautiful downtown with the merchants of the SOGO District.
On Saturday, April 11, from 11 a.m. to 4 p.m., the merchants of SOGO will be holding their monthly SOGO Saturday. The streets will be open, but the sidewalks of Palafox Street will be full of shopping, dining, and live music from the Platinum Premier Band, featuring guest jazz guitarist Dennis "Fingeroll" Nelson.
SOGO, SOuth of GOvernment, is downtown's retail and cultural center. There are over 20 stores, specialty shops and restaurants in the SOGO area.
Explore unique stores offering one-of-a-kind art, jewelry, men's and women's clothing and kitchenry. Over a half-dozen restaurants tempt you with a wide variety of choices just steps away from each other. Get fit, flawless and festive with some of downtown's hottest fitness, salon, floral and interior design shops. Regardless of what you're looking for, Saturdays are better in SOGO.
SOGO Saturday will be held the second Saturday of each month. For more information on events and to find out what's going on in the SOGO District of downtown Pensacola, follow SOGO Saturday and SOGO District Pensacola on Facebook.
Participating SOGO stores and restaurants include Al Fresco, Between, Bodacious Brew, Bodacious Olive, Carmen's Lunch Bar, Don Alans, Emerald Coast Tours, Fiore of Pensacola, Mainline Art House, McAlpin Interiors, Nom Sushi Izakaya, O'Riley's Irish Pub, Pure Pilates, Scout, Shux Oyster Bar, SoChopped, SoGourmet, Susan Campbell Jewelry, and VolumeOne Salon.