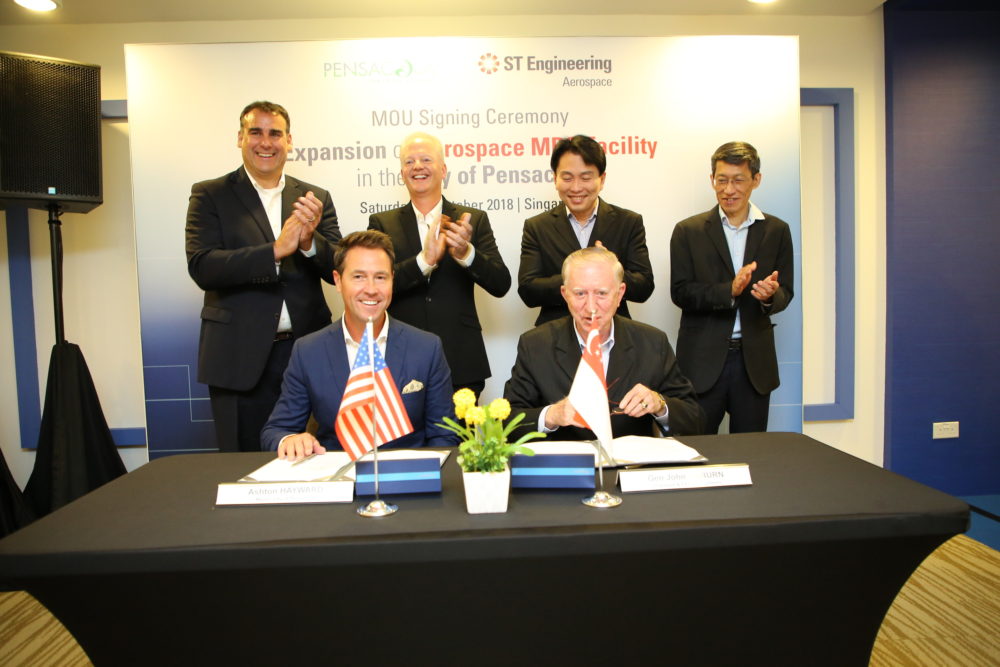 This past weekend, Scott Luth, FloridaWest CEO, and Escambia County Board of County Commission Chairman Jeff Bergosh were among the participants in a historic Memorandum of Understanding agreement signing between Vincent Chong, President & CEO of ST Engineering Aerospace and Pensacola Mayor Ashton.
Valued at $210 million, the 655,000 square feet facility will be jointly funded by the several state and federal organizations, with ST Engineering Aerospace investing $35 million.
Under the agreement, ST Engineering Aerospace and the City of Pensacola will begin to develop the MRO facility in 2022. It will consist of three widebody aircraft hangars and contribute about 1.5 million man hours annually. The facility will be adjacent to the present MRO site.
"This project could produce an additional 1,325 direct, good-paying full time jobs with benefits as well as 3,400 indirect jobs – which may add more than $400 million yearly to personal incomes in our county," said County Commission chairman Jeff Bergosh.
The Triumph Gulf Coast Board of Directors has approved a $56 million grant to the City of Pensacola for the development of a MRO campus, but the grant is dependent on Mayor Hayward raising a $154-million match by the end of the year.
The ST Engineering agreement provides $35 million, and the mayor has $4 million from Governor's Job Growth Fund, $3 million from Florida Legislature Appropriation, $10 million from the county commission and $8 million from the city council. He is still $94 million short, but the mayor has assured the Triumph Board that he will raise it from FDOT, Governor's Job Growth Fund, Federal EDA and other sources before the Dec. 31 deadline.