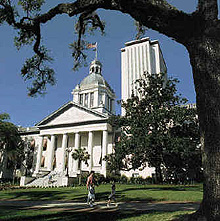 By THE NEWS SERVICE OF FLORIDA
BILL WOULD REQUIRE POLICE TO WEAR BODY CAMERAS
Amid a broader national debate about the issue, a state House Democrat filed a proposal Thursday that would require body cameras for all Florida police officers who primarily are assigned to patrol duties. The bill (HB 57), filed by Rep. Shevrin Jones, D-West Park, will be considered during the 2015 legislative session. Under the proposal, officers would have to use the cameras "to record activities that take place during motor vehicle stops or other law enforcement actions taken during the course of his or her official duties." The bill comes amid a national debate, fueled by fatal incidents in New York and Missouri, about police use of force. Earlier this week, President Barack Obama proposed spending $263 million to increase the use of the cameras and to take other steps, such as expanding law-enforcement training. Jones' bill is named the "Police and Citizen Protection Act."
JUSTICES CONSIDER DISPUTE OVER LOTTERY WINNINGS
The Florida Supreme Court on Thursday heard arguments in a dispute about whether $1 million from a winning lottery ticket should be shared by a couple who had been in a long-term relationship. Howard Browning and Lynn Anne Poirier began living together in 1991 and, according to Browning, entered an oral agreement in 1993 that they would split any lottery winnings. In 2007, Poirier bought a lottery ticket with a $1 million prize, leading to a legal fight about whether she was required to share it with Browning. Court documents indicate the two sides also dispute whether a romantic relationship continued at the time Poirier bought the ticket. A Seminole County judge sided with Poirier, and the 5th District Court of Appeal also ruled partly in her favor — but asked the Supreme Court to take up the case. The legal question involves what is known as the "statute of frauds," which generally bars lawsuits about agreements that take more than a year to carry out unless those agreements are in writing. Sean Sheppard, an attorney for Browning, argued that the law should not apply in the lottery case, saying the agreement went on indefinitely as the couple was in a relationship. "They would buy tickets together," Sheppard said. "They would put them on the mantle when they got home. They would check the results." But Mark Sessums, an attorney for Poirier, said the romantic relationship was finished and that the case involves litigation over something that had been said 14 years before the winning ticket was purchased. "There has to be an end to it," Sessums said. Justices typically take months to rule in such cases.
STOKES TO LEAVE FSU FOR MISSOURI
Garnett Stokes, who served as interim president of Florida State University before John Thrasher took over last month, was named Thursday as provost and executive vice chancellor for academic affairs at the University of Missouri. Stokes, who has been Florida State's provost since 2011, will start her new job Feb. 2, according to a news release from the Missouri school. Stokes took over as interim president this year after former Florida State President Eric Barron left for the top job at Penn State University. Stokes applied to become president on a permanent basis, but she was not a finalist for the post. Thrasher, a former state senator and longtime influential figure in Republican politics, was named president after a controversial selection process.
ROONEY PLANS 2016 RE-ELECTION BID
After running unopposed this year, state Rep. Patrick Rooney, R-West Palm Beach, has filed paperwork indicating he will seek another term in 2016, according to the state Division of Elections website. Rooney filed the paperwork this week as a first step toward defending his District 85 seat in Palm Beach County. Also this week, Suwannee County Republican Barbara Ann Prince filed paperwork indicating she will run in House District 10, which is represented by Lake City Republican Elizabeth Porter. District 10 includes Baker, Columbia, Hamilton, Suwannee and part of Alachua counties. Porter, who was first elected to the House in 2010, is eligible to seek another term in 2016.