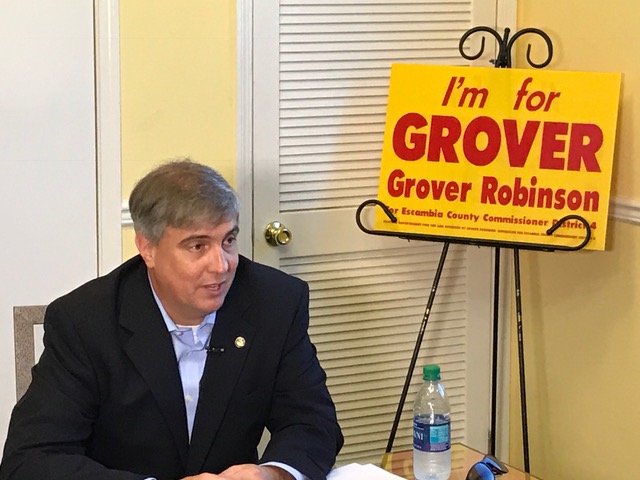 Pensacola mayor-elect Grover Robinson has asked Blue Wahoo and Studer properties co-owner Quint Studer to head his transition team.
"Quint has agreed to do so on a volunteer basis," said Robinson in a written statement. "As many may know, Quint has an impressive track record of diagnosing, consulting and improving large organizations, and that experience will be a significant asset as we begin to lay out the direction of our city."
Robinson has asked Quint and the public to provide input on our strengths and weaknesses as a city. He plans to create several avenues for residents to give feedback, including in-person forums and online.
Under Quint's leadership, the transition team will have 11 other members who will lead the examination of key areas in our community:
Crime and Safety – Connie Bookman
Education – Michelle Salzman
Neighborhoods – Reverend Isaac Williams
Governance – Kristie Tobias
Environment – Christian Wagley
Transparency – Sena Maddison
Economic Development/Entrepreneurship – Brian Wyer
Traffic/Walkability – Drew Buchanan
Government Efficiency – David Peaden
Finance and Budget – Bruce Vredenburg
Legal – Julie Shepard
"These individuals have agreed to serve in a voluntary capacity, and they will work with other citizens as necessary to adequately address each category," said Robinson. "The goal of these committees is to diagnose what is going well in each sector, what needs improvement, how success is currently being measured and to suggest any new measurement tools to evaluate performance in these areas moving forward."
He added, "Each committee will return with clear recommendations on how we advance our city in their respective sector. Those recommendations will be provided to the community in a final report."
Robinson also said that his first priority once he is sworn in next week was to secure the remaining funding for the ST Engineering expansion at the Pensacola International Airport and meet the commitments his predecessor made to the Triumph Gulf Coast board of directors last summer.
The Triumph board approved awarding the City of Pensacola $56 million in Triumph funds towards the construction of Phase Two of the Pensacola International Airport Maintenance, Repair and Overhaul (MRO) Aviation Campus (Project Titan). The award is based the city securing all the funding, $274.5 million, for the project by Dec. 31.
In July, David Penzone, Mayor Ashton Hayward's advisor, told the board that FDOT had already committed $25 million toward Project Titan. He said there was a legislative appropriation of $3 million, and the Governor's Jobs Growth Fund had committed $4 million.
However, the other funds that Penzone said the city was getting – FDOT additional $25 million, Governor's Jobs Growth Fund additional $15 million, and $17 million from the federal government for $17 million – haven't be locked down.
"It's an exciting time to be a Pensacolian, and I'm thrilled to lead our city," said Robinson. "I thank our transition team, Quint, and the citizens of our great city for your help. We're looking forward to what's ahead for Pensacola."
---
When Ashton Hayward was elected in 2010, he had two months to transition into office. His transition team was:
Chair, Blaise Adams
Co-Chair, Rev. LuTimothy May
Cynthia Williams
Ron Ellington
Bo Carter
David Penzone
John Asmar
Bruce Partington
Gordon Sprague
Chips Kirschenfeld