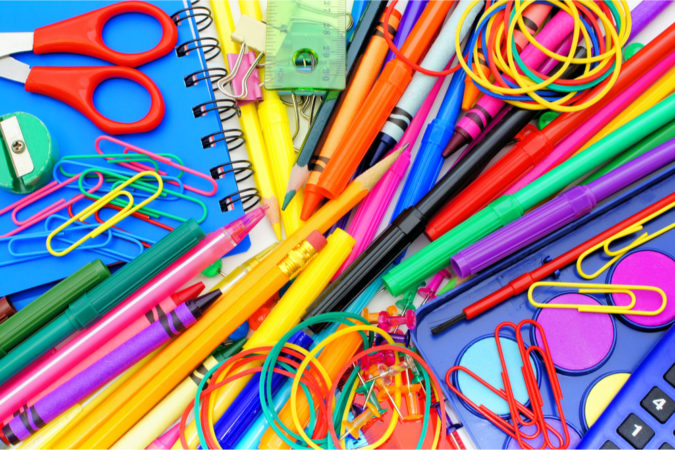 Escambia and Santa Rosa counties' only School District-approved supply, launched onJuly 6, has been extended to August 14. Stuff the Bus, a partnership between Cat County 98.7, NewsRadio 92.3, Escambia County School District, Santa Rosa County School District, Navarre Press, Pensacola News Journal, United Way of West Florida, and WEAR ABC 3 works to ensure that local students have the tools needed to succeed for the upcoming school year.
In 2019, our community United to collect over $50,000 in supplies for Escambia County and distributed nearly 1,200 stuffed backpacks to students in Santa Rosa County. Due to COVID-19,instead of hosting in-person collection drives, we invite businesses, faith communities, civic groups, and individuals to give a monetary donation.
Every dollar donated goes towards purchasing school supplies for local students.
$1 will purchase four pocket folders

 

$10 will purchase one pencil box, 100 #2 pencils, a pair of scissors, and two wide-ruled notebooks

 

$25 sponsors a student

 
Stuff the Bus has received $13,500 in corporate sponsorships from Navy Federal Credit Union, Gulf Breeze Sertoma, Escambia Schools Foundation, WEAR ABC 3 News, the Superintendents Circle, Central Credit Union, and the Gulf Power Foundation. An additional 68 individual donations total nearly $5,000.

Donate today by texting SCHOOL850 to 41444 or visiting www.uwwf.org/school850. Donations for Stuff the Bus will be distributed to Escambia and Santa Rosa school districts based on the number of students in each district. For more information, please visit United Way of West Florida's website at www.uwwf.org/stb.