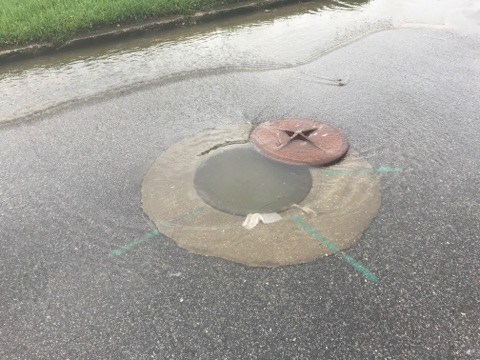 By Sammi Sontag
Inweekly
At a Tanyard neighborhood meeting held at the Corinne Jones Resource Center Thursday evening, Pensacola City Councilwoman Jewel Cannada-Wynn listened to her constituents as they spoke about her district's recent flooding.
Though the submerged west side of Pensacola was not supposed to be the dominant agenda topic, it became consequential as agitated residents spoke out about the recent storm water overflow.
"My land didn't flood when Pensacola was hit with heavy rain, but the street did and the sewer was breached," said Dr. Gloria Horning, who lives on DeVilliers Street. "I've been asking you since last year to address this problem, and I think now is the time to fix it."
Pensacola has taken on 18 inches of rain over a 21-day span, which a sizeable amount of rainfall even for June, Assistant City Administrator Keith Wilkins told the residents.
Complaints were made regarding the stormwater pond on Government Street that is expected to be completed later this summer. Some Tanyard residents expressed concerns that retention pond failed to reduce high water levels and may have added to the flooded the streets.
"The stormwater pond will not necessarily solve all the issues," Cannada-Wynn said. "And when you've had the volume of rain that we've had, the lower areas are going to have drainage issues. That's just a part of having heavy rain."
She added, "But my next step is to go back and review the city's drainage improvement plan."
The councilwomen said after she looks over the improvement plan, she will then try to work with the city staff and determine how to ultimately fix the storm water problem.
Laurie Murphy, executive director for Emerald Coastkeepers and certified drain water specialist, said the issues with flooding and drainage in Pensacola can be attributed to low-lying land and storm water pipes that do meet the current development standers. She suggested a solution.
"By raising the city's roads and adjusting the storm water inlets, which you know is going to take some money, we would be able to reduce a lot of drainage issues and mosquitos and even prevent overflows of rain water," she said.
Murphy added, "I think this is something that should be addressed with the city. And I am willing to talk with anyone here in Pensacola about locating grant money or involving state funds, anything we need to do to pay for this project and solve the storm water issue."
Inweekly spoke with Councilwoman Cannada-Wynn and Dr. Horning after the meeting.
"We're just not getting answer about this issue. The city blames ECUA, and ECUA blames the city for the problems, but we really just need someone to address the problem right now," Horning told Inweekly,
"We'll start by surveying the area to see which portions of the district continually go under after getting normal amounts of rain during the stormy season, " said Cannada-Wynn. "We also need to look into drain replacement and how that will work, then bring it up with the Mayor, then the public."