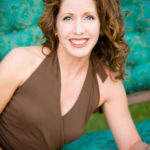 The Choral Society of Pensacola's 2014-15 Season opens with a concert titled "Beatles Legacy" at 7:30 p.m. on Saturday, October 25, 2014. The concert takes place in the beautiful First United Methodist Church sanctuary at 6 East Wright Street in downtown Pensacola.
Joining the 60-member Choral Society chorus will be popular local soprano, Sheila Murphy, and the Pensacola State College Jazz Choir. Choral Society Artistic Director, Xiaolun Chen, will conduct the concert. Accompaniment will be provided by pianist Ila Brown.
The first half of the concert will feature a performance of the beautiful oratorio Ecce Cor Meum(Behold My Heart). Composed by Paul McCartney in 2006, Ecce Cor Meum is a four-movement work that demonstrates McCartney's ability to create music in a classical form. This piece will feature the magnificent pipe organ at First United Methodist Church.
The second half of the concert will feature the Pensacola State College Jazz Choir performing such Beatles standards as "Yesterday," "Can't Buy Me Love" and Blackbird," followed by a medley titled "The Beatles in Revue," performed by the Choral Society chorus.
The Choral Society is pleased to recognize The Bear Family Foundation as Concert Sponsors for "Beatles Legacy." The Choral Society's media partners are the Pensacola News Journal and WUWF 88.1 FM.
Tickets for the concert are $22.00 for reserved section seating, $18.00 for general admission, and $5.00 for students. Visa and MasterCard can be used to purchase tickets in advance, and there is a $2.00 discount per ticket on the purchase of reserved or general admission tickets for groups of ten or more. Call 850-484-1806 or go to http://www.brownpapertickets.com/event/583467 to purchase tickets in advance.
Tickets can also be purchased through the Pensacola State College Lyceum Ticket Office (850-484-1847). Tickets will be available at the door beginning one hour prior to performance time.
Season subscriptions, featuring reserved section seating for all three of the Choral Society's 2014-15 concerts, are available for $55. The remainder of the season includes Handel's Messiah (December 6, 2014) and Mozart's Grand Mass in C Minor (April 18, 2015).
For more information about the Choral Society of Pensacola: phone – 850-484-1806; e-mail – csop1@juno.com; web site – www.choralsocietyofpensacola.com.