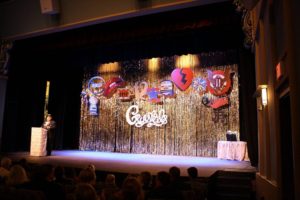 Press release: Pensacola Little Theatre celebrated volunteerism in the arts this past Friday, October 2, by hosting The 2015 Crystal Awards. The Crystal Awards were started back in the early 1990's to celebrate all of the selfless volunteers that put their time and talents into making the previous season come to life. Every year, PLT volunteers donate thousands of hours to the theatre to ensure an authentic and educational theatre experience.
The program started off with a mesmerizing tap number then rolled right into a night of comedy, reminiscing and singing. Each show presented a Spirit Award to an outstanding volunteer that went above and beyond the call of duty. Other awards and recognition were given to season sponsors and outstanding volunteers. A loving tribute was paid to past Artistic Director, Jerry Ahillen for his 20 years of service. The evening was capped off by the Mainstage People's Choice Award presented to 42nd Street.
Pensacola Little Theatre is so grateful for all of the wonderful volunteers that make PLT a place where everyone can escape their everyday life and experience the magic that theatre brings. Without the dedicated volunteers, the theatre would not exist to bring this joy into the lives of all who enter. Check out our list of winners below to see if your favorite show took home a Crystal!
Treehouse and Acorn Spirit Awards:
Snow Queen: Tracy Aaker
You're a Good Man, Charlie Brown: Garrett Summitt
Pippi Longstocking: Izabelle Pinzone
Treasure Island: Jennifer Williams
People's Choice Treehouse Award: You're a Good Man, Charlie Brown
Studio 400 Spirit Awards:
How I Learned to Drive: Mary Steele
Ordinary People: Connie Cali
Short Attention Span Theatre: Sarah Lane, Mercedes Cobbett, Linda Brown
Momologues II: Mega Paracca
People's Choice Studio 400 Award: How I Learned to Drive
Special Production, Rocky Horror Picture Show: Kaylee Ennis
Mainstage Spirit Awards:
Annie Get Your Gun: Katelyn Geri
Last Night in Ballyhoo: Mark Noel
GI Jukebox: Molly Rockwell
33 Variations: Stephanie McNeill
42nd Street: Lalla Pierce
People's Choice Mainstage Award: 42nd Street
Special recognition was also given to Jerry Ahillen, Carolyn Ward, Kayla Stephenson, Ginger Caro and Hal George.