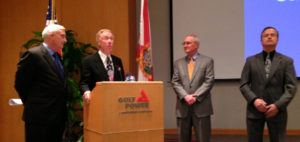 The Greater Pensacola Chamber, along with its regional partners, unveiled Vision 2015 this afternoon. The five-year economic development strategy was described as a "roadmap" to creating "really great jobs" and "jobs that are better than we have now."
"We are on a continuing quest, that quest is to build a world-class economic development community," said Jim Hizer, president of the chamber of commerce. "If we're going to progress as a county we absolutely need a roadmap."
Chamber members, as well as local government officials, gathered today at Gulf Power's headquarters. They were introduced to Vision 2015, and offered their unanimous support for the strategy.
"For the first time in anyone's memory we now have a plan and a call to action," Gary Huston, chairman of the Vision 2015 Cabinet, said during a press conference following the chamber's presentation.
Vision 2015 is two-years in the making. According to the chamber, the strategic plan will "serve as a catalyst that stimulates existing business growth, improves the available workforce and spearheads community improvements more effectively."
Two major components of the Vision 2015 strategy are workforce development and securing sites for business parks. The area is apparently lacking in both.
"The region lacks fully shovel-ready development sites or a large commerce park with good access to Interstate-10," states an executive summary of the strategy. "Fully ready-to-go-sites would substantially improve business attraction competitiveness and make it easier for rapidly growing local companies to expand."
Where the workforce is concerned, the strategy recognizes that area employers have raised concerns about the difficulty they've experienced in filling key skilled positions. The 2015 plan suggests creating a $15 to $25 million Greater Pensacola Targeted Employment Education Endowment in order to provide loans and scholarships to candidates looking to further their education in high-demand fields.
In addition to private funds and tax dollars, the Vision 2015 strategy focuses on RESTORE dollars—stemming from yet-to-be-determined Clean Water Act fines levied against BP—to funds these efforts.
Other priorities in the Vision 2015 strategy include shaping the economic development designs of Escambia and Santa Rosa counties, shaping and screening RESTORE proposals, supporting the revitalization of downtown Pensacola, mentoring at-risk youth and developing a "cyber security cluster." The strategy also notes a need to focus on small business expansion and minority business development.
In short, the plan is aimed at fostering business and job growth.
"Economic development is about building quality jobs," said Tom Ticknor, a consultant who helped develop the strategic plan.
Ticknor listed a few potential focal points. He said the area should look to attract call-center oriented businesses (there's available real estate for such endeavors), focus on its potential as a service port for vessels working the Gulf of Mexico oil fields and opportunities at the Pensacola International Airport.
The consultant also stressed securing land—500 to 600 acres—in Santa Rosa and Escambia counties for business parks with easy-access to Interstate 10.
"If you do so," Ticknor said, "it's going to be a game changer."
The concept of a high-tech industrial business park isn't new. Escambia County Commission Chairman Gene Valentino champions the notion, often tying it to attracting foreign businesses to the area and accommodating the sub-contractor market associated with the Airbus facility in Mobile, Ala.
Ticknor downplayed the Airbus prospects.
"It's not as buoyant as people had hoped," he said. "—we can't put all our eggs in the Airbus-basket."
While some aspects of Vision 2015 are more philosophic—like supporting higher education, small business expansion and minority business development—other aspects—such as constructing business parks—seem to take a more build-it-and-they-will-come approach.
"You can phrase that two ways," said Ticknor. "There's a build-it-they-will-come aspect to this. Turn that phrase around—if you don't build it, they won't come."