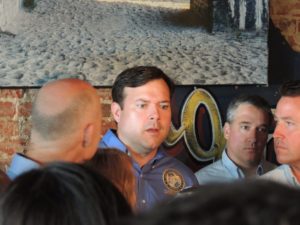 Clay Ingram is also the president and CEO of the Greater Pensacola Chamber. He announced Wednesday afternoon on Pensacola Speaks that he has hired political strategist Todd Thomson.
He said a long-time weakness of the chamber has been in the "advocacy piece of the equation."
"We hired Todd Thomson last week," he said. "He did a great job in the Doug Underhill County Commission race. He ran my first political race, and then was one of the top notch lobbyists in Tallahassee."
Ingram said, "Todd has been going to the county commissioner meetings. First thing he can do is send a report back to our membership as to what the local government is doing that will affect business."
He said that he wanted Thomson to help the chamber board insert the needs of the the business community into conversations with elected officials.