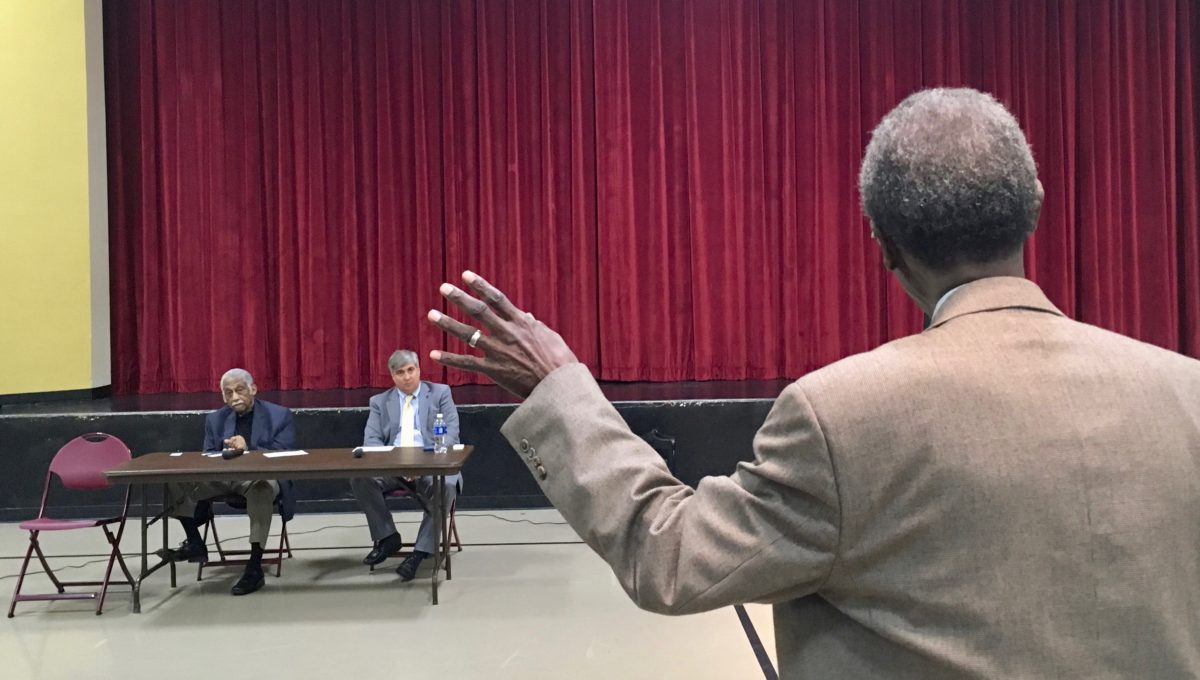 by Jeremy Morrison, Inweekly
During his first town hall meeting Thursday night, Pensacola Mayor Grover Robinson heard from citizens on a range of issues, from on-the-ground concerns like sidewalks and street lighting to bigger-picture concepts like the future of the city's port and the potential for municipal expansion via annexation.
Robinson, along with Pensacola City Councilman Gerald Wingate, held the town hall at District 5's Woodland Heights Resource Center. The mayor plans on hosting similar events in each of the city's seven districts within six months.
"This is going to be a beginning point," Robinson told attendees.
These town hall meetings consist of an open-forum format and are designed to foster one-on-one conversations with the mayor, offering citizens a chance to voice concerns.
Robinson began hearing such concerns at Woodlands Heights before he'd even wrapped up his introductory comments, with John Jerralds, a former city councilman and current president of the Northwest Neighborhood Association, taking a nod from the mayor as an opportunity to speak.
"We're with you when it comes to sidewalks," Jerralds said, describing safety concerns about how drivers just outside the community center "drive around that curve like it's a racetrack."
"We are in desperate need of speed bumps and traffic calming devices," he said. "It's a hazard."
Several speakers mentioned the need for similar neighborhood improvements, such as more sidewalks and better lighting, as well as efforts to slow traffic. The mayor responded that he was looking to address such issues.
"We absolutely are focused on that," he said.
Resident Kimberly Gulley, who lives near the community center, spoke with the mayor about flooding issues in the area. She said her neighborhood was all too familiar with flooding, but that she had found the city unresponsive in dealing with the issue.
"I've had to have my floor raised twice in my den," Gulley said. "I've been begging and begging for the last several years and nothing has been done."
Robinson directed the woman to Director of Public Works Derrik Owens, who was seated nearby.
"We'll come out there and try to figure out what we can do," he said.
The issue of expanding the city's population — and thus tax base — also came up during the town hall meeting, with a couple of people urging the mayor to pursue annexation of areas outside the city limits.
"I think we should really work to get this city the size it should be, over 100,000," said Samuel Horton.
"I would love to do annexation," Robinson agreed that increasing the city's population would have its benefits, but noted that residents living in the areas eyed for annexation would need to be on board. "They've got to vote themselves in, we can't just grab'em and put'em in."
Another concern raised during the Jan. 25 town hall, was related to the city's hiring of African-Americans. Jerry McIntosh said that Pensacola needed to make more of an effort toward hiring black employees, and also raised issue about what he said is a general perception of the area as being unwelcoming to African-Americans.
"Too often, the perception here is that it's a hostile atmosphere," he said.
Robinson said the city would continue to focus on minority recruitment — "we have a lot of very good jobs with the city" — and said he was aiming for an inclusive environment.
"That's a priority of mine," the mayor said, "to make sure we all feel like we're working together."