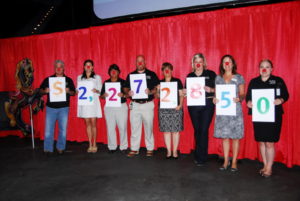 Press release: More than 230 community supporters joined United Way of Escambia County for lunch during its 2015-16 Workplace Campaign Kickoff. United Way announced $2,272,850 as this year's campaign goal, and 11 Pacesetter campaigns were celebrated for raising a total of $520,348 over a two month period.
The circus-themed event, presented by West Florida Hospital and hosted by the Pensacola Bay Center/SMG, included an agency fair featuring over 20 of United Way's funded partners. Attendees learned of the passion, commitment and change that these partners continue to bring to our community through the funds raised by workplace giving.
The enthusiasm and generosity of this year's 11 Pacesetters will be used to serve our community. Those companies include:
Be Ready Alliance Coordinating for Emergencies
Goodwill Easter Seals
Gulf Power Company
Regions Bank
Target
Navy Federal Credit Union
Summit Bank
United Way of Escambia County
Warren Averett
West Florida Healthcare
Campaign Co-Chair Jack Lowrey, Jr. said, "The generosity and hard-working spirit of our community partners continues to inspire me. As we embark upon another year's campaign, I'm confident that dollars raised will go to agencies that can truly create change in Escambia County. We've raised the bar of our campaign goal—now begins the work of meeting it."
Kia AutoSport of Pensacola was on site with a 2016 Kia Soul that will be given to a Workplace Campaign participant for the second straight year. The Kia Soul will be raffled off to one lucky donor at United Way's annual Campaign and Community Investment Celebration in June 2016. To be eligible, donors must give $130 for one entry, $520 for two entries and $1040 for three chances to win.
United Way thanks all who took part in this year's kickoff and looks forward to uniting our community in order to reach collective goals that demonstrate positive change in health, education and financial stability outcomes.
To learn more about hosting a workplace campaign, the Kia Soul Giveaway or volunteering at United Way, contact United Way's Development Director, Laura Hill, at 850.444.7143 or email laura@unitedwayescambia.org.