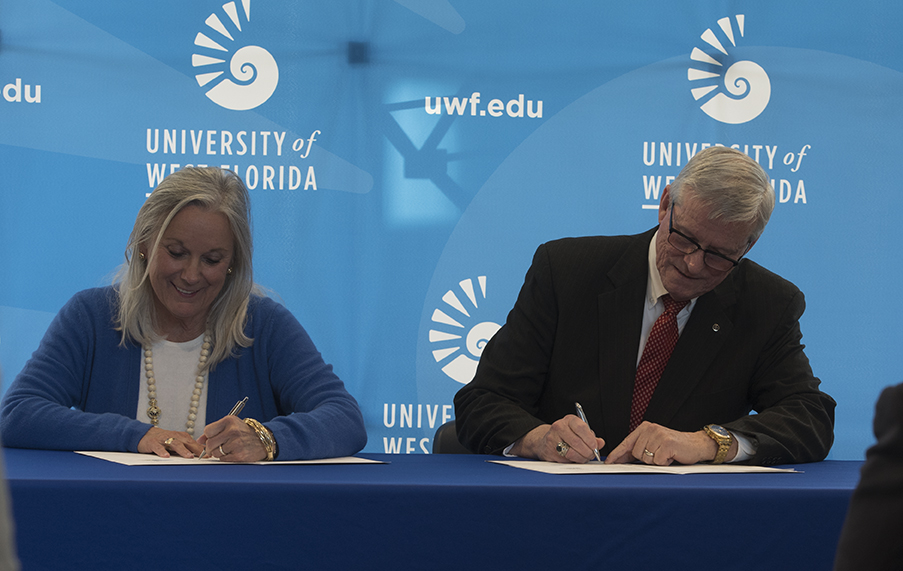 The University of West Florida Center for Cybersecurity hit another milestone in its four-year history last week when it announced a partnership with the National Security Agency to enhance cybersecurity workforce development and create accelerated pathways toward completion of an undergraduate cybersecurity degree program.
"It was 2014 when UWF launched the Center for Cybersecurity as a hub for research and opportunities for students to move into high demand career fields," said UWF President Martha D. Saunders. "Little did we know at the time how fast and how big and just how awesome this program was going to be in less than four years."
The agreement allows students who complete the Joint Cyber Analysis Course to earn undergraduate credit hours at UWF. JCAC is open to active military. The six-month JCAC course is designed to train individuals with limited computer experience and make them proficient in cyber analysis.
UWF joins Augusta University, Dakota State University, Drexel University and University of Maryland University College as the only higher education institutions that NSA has partnered with to offer accelerated degrees.
"The National Security Agency's National Cryptologic School is very pleased to be partnering with the University of West Florida to assist our nation in developing and training federal and military workers in cybersecurity," said Dr. Leonard Reinsfelder, Commandant, NSA National Cryptologic School. "The University of West Florida recognizes the unique talent of our nation's cyber warriors, especially our military in the State of Florida, and we are pleased to partner with them as we prepare for the future."
Both Saunders and Reinsfelder talked about the need for cybersecurity experts.
"The national issue of cybersecurity is in the news every day," said Dr. Reinsfelder. "We do not as a nation fully have it under control. We do not have enough people who are filling the jobs we know about today and the growing number of jobs is scary."
Dr. Saunders explained, "The number of cybersecurity job openings in Florida alone is estimated to be about 13,000, and the number nationally is nearly 300,000. Cybersecurity experts predict there will be a global shortage of 3.5 million professionals by 2020. The shortage of cybersecurity professionals is alarming, and we need to develop strategic partnerships to fill some of those openings.
In 2017. more than 4,000 military students completed the JCAC that is overseen by the NSA National Cryptologic School, which is housed at the Center for Information Warfare Training at Corry Station in Pensacola. Under the partnership agreement, UWF will apply up to 30 credit hours for the JCAC graduates toward a bachelor's degree in computing and information sciences with a cybersecurity specialization or 15 credit hours toward an associate's degree in general education. Once enrolled at UWF, students may be awarded up to three additional semester credit hours based on credit-by-proficiency evaluation.
"This partnership is an excellent opportunity to prepare our students for successful careers in cybersecurity by providing our educational resources," said UWF President Martha D. Saunders. "It aligns with our unwavering commitment to train cybersecurity talent and address the critical cybersecurity workforce shortage across the nation."
In 2016, the NSA and Department of Homeland Security designated the UWF undergraduate cybersecurity program as a National Center of Academic Excellence in Cyber Defense Education. The University received designation in 2017 as a Center of Academic Excellence Regional Resource Center for the Southeast Region. For more information about cybersecurity, visit uwf.edu/cybersecurity.