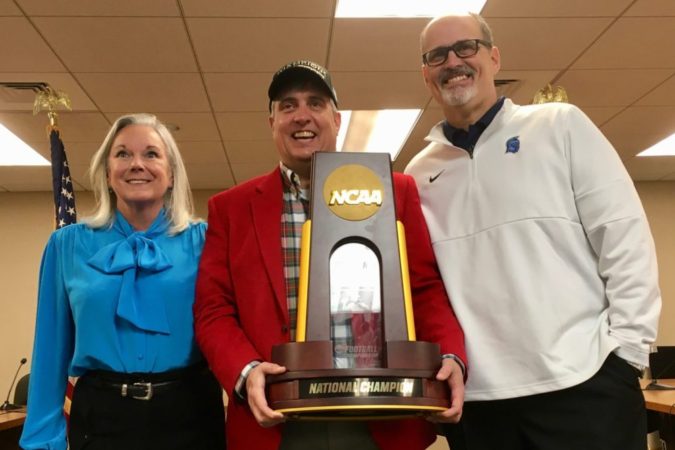 Following the University of West Florida Argonauts football team's weekend win and clinching of the Division-II national championship, Pensacola Mayor Grover Robinson offered his congratulations during a Monday morning press event.
"We could not be more excited," Robinson said, commenting on UWF's against-the-odds climb to the top. "If you live in northwest Florida, nobody gives anything to you. And this team exemplified to me northwest Florida as much as anything."
The Argonauts won the championship with a 48-40 victory over the Minnesota St. Mavericks in a game played in McKinney, Texas. The win came after three earlier victories on the road against the top ranked teams in UWF's division.
"This is a football-crazy state," Mayor Robinson said, "and there have been many national championships, but this year, 2019, there will only be one national championship in football that will be in the state of Florida, and it won't be Miami, or Tampa, or Orlando, or Gainesville or Tallahassee, it will be in Pensacola, Florida."
UWF Head Coach Pete Shinnick, as well as Martha Saunders, the university's president, were on hand Monday at city hall during the presser, having brought the championship trophy along with them.
"That game was an amazing deal," Shinnick said. "We're very proud and very grateful and we're just going to enjoy this moment."
Coach Shinnick commented on the relative youth of UWF's football program, with this being only its fourth season, saying he never saw that element as an obstacle.
"We really had the dream and desire to not be a normal start-up program. We never really approached it with an excuse of 'if we lost the game it was going to be because we were young or because we were playing a bunch of freshman,'" he said. "We have a saying: we expect to win. We're going to meet that expectation with smart, hard work and we're going to find a way to get it done. We've really had that since season one."
President Saunders also hit on this point, espousing an aim-high philosophy.
"If you go for mediocrity, at best mediocrity is what you're gonna get," she said. "But if you set your goals ridiculously high, even if it's a failure you're going to fail above everybody else's success. And I encourage the university to aim higher than you think is wise and go ahead and pursue an idea that everybody thinks is crazy, because the day before a major breakthrough, it's just a crazy idea."
Saunders continued, wrapping up with a call-and-response with the assembled audience members:
"If anybody had told us four years ago that our football team would be winning the national championship, breaking records every step of the way, we would have told them it's a —" she prompted.
"— crazy idea," the roomful of attendees called back.
Both Saunders and Coach Shinnick nodded towards the wealth of local community support the team has received, with the president recounting the community's welcome-back for the team at the airport after its final game in Texas.
"I gotta tell you, it took my breath away," Saunders said.
Mayor Robinson stressed how UWF was an asset to the Pensacola area, and also how a good many alumni within the ranks of city government were celebrating the university's recent victory.
"What UWF means to the city is big, what it means here at city hall is huge," Mayor Robinson said. "When you look at the education of many of the people that work here at city hall there certainly are Argos."