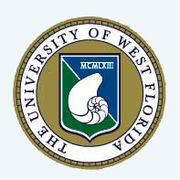 Richard Berg, the University of West Florida Athletic Director from 1988-2005, has been named to the inaugural Gulf South Conference Hall of Fame class.
The GSC Hall of Fame is 45 years in the making and features five former student-athletes, three administrators and two head coaches in the initial class. Berg and his fellow honorees will be officially inducted on Wednesday, June 25, in Pensacola Beach, Fla., at the Hilton Pensacola Beach Gulf Front Hotel as the highlight of the annual conference summer meetings.
Berg wsas named UWF athletics director in 1988 and guided the institution's transition from NAIA to NCAA Division II in 1994; In 19 years as AD, Berg saw UWF claim 41 GSC Championships, eight All-Sports Trophies and three Commissioner's trophy winners.

2014 GSC Hall of Fame Class
David "Boo" Ferriss, Delta State University (Head Baseball Coach)
Crystal Hardy, Delta State University (Women's Basketball Player)
Chris Hatcher, Valdosta State University (Quarterback and Head Coach) s
Wendy Hurst-Stewart, University of Alabama in Huntsville (Softball Pitcher)
Bill Jones, University of North Alabama (Men's Basketball Coach)
Ronald McKinnon, University of North Alabama (Linebacker)
Nate Salant, GSC Commissioner