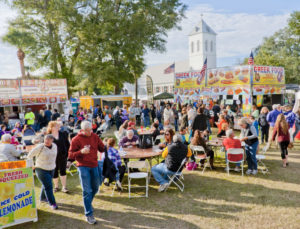 Taste of the Beach
September 18-20
Award-winning Southern chef and famous TV personality John Besh will spice up the food and excite the crowds at this year's 8th Annual Taste of the Beach at the Gulfside Pavilion on Pensacola Beach. One of the area's favorite culinary events, the festival also offers cooking demonstrations and food samplings from Pensacola's finest chefs who showcase their favorite coastal cuisine.
September 19
The third annual Perdido Key Pirate Festival will be held on Saturday, Sept. 19, which happens to be International Talk Like A Pirate Day! The family-friendly event features fun activities for all ages. It has shopping vendors, treasure hunts, pirate music and dancing, prizes and delicious food. The event will be held at Big Lagoon State Park, located off Gulf Beach Highway in Perdido Key, from 11 a.m. to 5 p.m.
September 25-27
If you love fresh seafood, you have no excuse not to attend this famous event. The Pensacola Seafood Festival pairs great Gulf seafood with great art and is one of the largest arts and crafts fairs in Northwest Florida. Visitors enjoy everything from Cajun gumbo to traditional Southern shrimp and grits to fried grouper po'boys, all while shopping under the massive oaks in Downtown Pensacola's Seville Square Park.
Pensacola Beach Songwriters Festival
October 1-4
Songs create moods that can put a smile on your face or a tear in your eye, so here's your chance to meet the writers and hear the stories behind those memorable hits. The variety of songwriters at this festival is as diverse as the grains of sand that cover our beautiful, pristine beaches.
Oktoberfest at Flora Bama
October 3
Break out your lederhosen for the Flora-Bama's third  annual Oktoberfest celebration. Brats, sauerkraut and a variety of German beers flow during this day-long festival. German-style musical acts will perform while partygoers try their best chicken dance.
October 9-11
If the cars parked for miles along Garden Street in Downtown Pensacola every October don't tip you off, the wonderful smells of moussaka and pastitsio will. For the past 50 years, the Annunciation Greek Orthodox Church has worked tirelessly to provide popular Greek food and traditional Greek dancing to locals and visitors. More than 20,000 people attend the festival each year.
October 16, October 25
Now in its 27th year, the theme of this year's event is Savor & Surf Southern. The fun will begin with the annual walkabout tasting on Friday, October 16, from 6 – 9 p.m. at the Hilton Pensacola Beach Gulf Front Hotel. The following Sunday, October 25, PBS celebrity Chef John Besh will be the honored guest for an afternoon book signing from 1 – 2:30 p.m. at SoGourmet, followed by a fundraising dinner and cocktails starting at 6 p.m. at Jackson's Steakhouse in Downtown Pensacola.
Pensacola Beach Art & Wine Festival
October 18
With the stroke of a brush and a pop of a cork, beautiful Pensacola Beach will transform into an artist and foodie's paradise during this year's festival, which takes place on the Pensacola Beach Boardwalk. The festival features area chefs, more than 50 wines and about 20 artists with food and wine tastings scheduled throughout the day, accompanied by live music along the Santa Rosa Sound.
Frank Brown International Songwriters' Festival
November 5-15
The Frank Brown International Songwriters' Festival is where music lovers meet music legends in a variety of venues across the Pensacola Bay Area. Grammy Award-winning songwriters and new artists perform original songs and talk about the stories behind them in this popular music festival that started more than 30 years ago at the world-famous Flora-Bama Lounge on Perdido Key. More than 200 songwriters from around the country and the world participate.
November 5 -16
It's a well-kept secret that fall is one of the best times of the year to visit a coastal southern town, and the Pensacola Foo Foo Festival is timed perfectly. The Foo Foo Fest encompasses an eclectic mixture of art and culture events around the Pensacola area, ranging in tastes from the Blue Angels Homecoming Air Show to the Frank Brown Songwriter's Festival to ballet, opera and high art.
November 6-8
Ranked as one of the "Top 20 Events in the Southeast," this juried art show brings more than 200 nationally-known artists to historic Seville Square in Downtown Pensacola. They compete for awards and sell their original art to the thousands of visitors who return year after year to shop for one-of-a-kind paintings, drawings, sculptures and jewelry.
For a complete list of 2015 events in the Pensacola Bay Area, including upcoming performances, art exhibits, festivals and sporting events, visit www.visitpensacola.com.