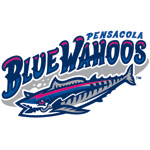 MARIETTA, GA – The Southern League of Professional Baseball Clubs has announced the Pensacola Blue Wahoos as the Don Mincher Organization of the Year and the Montgomery Biscuits as the winner of the Southern League Promotional Trophy. Votes for both awards were received from league general managers.
Named in honor of the late Don Mincher, who served as Southern League President from 2000-11, the Organization of the Year is awarded to the Southern League club exemplifying the complete baseball franchise. By claiming this honor, Pensacola will be the Southern League's nominee for the John H. Johnson President's Trophy, which will be presented at the Baseball Winter Meetings in December.
Winning the inaugural Don Mincher Organization of the Year represents the latest in a growing list of accolades for the Blue Wahoos, who were named by Ballpark Digest as its Organization of the Year and had their stadium – Pensacola Bayfront Stadium – announced as Ballpark of the Year by Baseballparks.com. On Tuesday, Blue Wahoos President Bruce Baldwin was named Jimmy Bragan Executive of the Year.
In their first season in the Southern League, the Blue Wahoos led the circuit in attendance with 328,147 – an average of over 4,800 per game. They raced out of the gate with a sellout crowd in each of their first six games and recorded a whopping 40 sellouts in 68 openings overall.
By winning the inaugural Southern League Promotional Trophy, the Biscuits will be the circuit's nominee for the Larry MacPhail Award. Honoring the team demonstrating the most outstanding promotional work in Minor League Baseball, the Larry MacPhail Award will be presented at the Baseball Winter Meetings.
Ranking third in the Southern League in average attendance, Montgomery compiled a promotional schedule that featured seven free post-game concerts as part of its "Thirsty Thursday" series. The Biscuits' most successful promotion in terms of attendance came on June 2, when Military Appreciation Night drew a season-high 7,327 fans to Riverwalk Stadium.
Montgomery entertained fans with over 20 MAX Fireworks Spectaculars in 2012. Two of those dates – April 28th and July 4th – attracted more than 7,000 fans, and a third (June 29) drew 6,983.
The Biscuits have already released their promotional schedule for 2013, which will mark their 10th season in the Southern League.