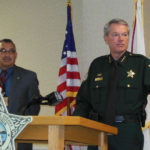 At noon press conference on Saturday, Sheriff David Morgan announced two arrests in the Sept. 13 homicide of Phuong Truong at TM Mart on Michigan Avenue. Dontonio Diaz Thornton, 19, has been charged with homicide and robbery, and his mother, Willie Mae Thornton, 39, charged with violation of parole, battery and burglary.
"These are the homicides we fear most in law enforcement," said Sheriff Morgan, "the ones that are almost random in nature, and that can only be described as senseless."
Morgan thanked the citizens of Escambia County for coming forward with information that helped solve a case that had little or no physical evidence.
"We have been beating the drum for some time for community involvement to break the wall of silence," he said. "There was sufficient information and enough witnesses who came forward to give us critical leads to follow up on."
Morgan recognized the efforts of Lt. Mike Gilmore, head of homicide investigations, Sgt. Jason Barnes, lead investigator, Investigator Michelle Wertz who did most of the leg work in this investigation, Sgt. David Brown, heads up Intelligence Division, and Investigator Green.
He said, "You have a sheriff's office, especially our homicide unit, that is second to none in the United States. Our 'solve rate' for these homicides is in the high 80 percentile. When our community works with us, we have 'solve rate' that is second to none."
Assistant State Attorney John Molchan said the State Attorney's Office will bring the case to the grand jury and will be seeking charges against Dontonio Diaz Thornton of premeditated first degree murder and robbery. If the grand jury indicts him on those charges, the death penalty committee will review the case to determine if the death penalty will be sought.

Dien Truong, daughter of the victim, spoke on behalf of her family, thanking law enforcement "for doing such a great job in finding justice for my father."
"If there is any other information that will lead to a back story as why something like this could have occurred, we pray that it comes to light," she said. "Money is never worth anyone's life."