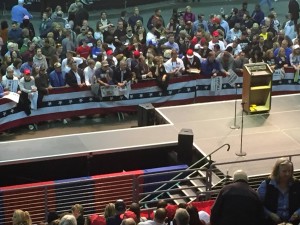 The Washington Post covered GOP presidential frontrunner Donald Trump's visit to Pensacola on Wednesday.
Post reporter Jenna Johnson tweeted: "Thousands packed into the Pensacola Bay Center to see Donald Trump tonight…"
On the Post's politics blog, Chris Cillizza wrote, "…judging from the packed house in Pensacola, Trump might be getting stronger, not weaker, as Iowa draws ever closer-a prospect that will send a shiver down the collective spine of the Washington political establishment."
The Pensacola Bay Center staff did a great job hosting the event, but their sound system took a beating from candidate and the media – In Pensacola, Trump said … What did he say? Can you hear him?