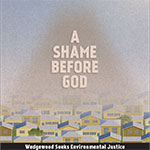 The Escambia Board of County Commission chambers were packed yesterday with residents from the Wedgewood community. The public forum normally lasts only 30 minutes. Yesterday it went over 90 minutes. The residents spoke one after another about the living conditions in their neighborhoods and the adverse impact the dumps surrounding them are having on their quality of life (Read "A Shame Before God").
They presented the commissioners with environmental reports, photos and petitions. And the BCC listened and pledged to do something.
"Wedgewood was impressive last night," said Commissioner Lumon May in phone interview this morning. "They were as organized as any group that comes before the commission. And I think (County Administrator) Jack Brown got the message."
Once again, we saw a neighborhood show its power and influence. The neighborhoods -when they get organized – can change the minds and opinions of mayors, city councils, county commissions and even governors.