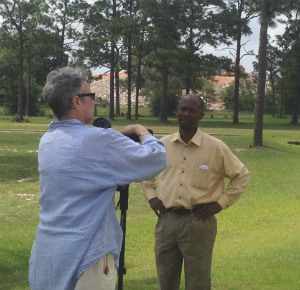 This morning Escambia County Commissioner Lumon May met with his constituents at Marie K. Young Wedgewood Community Center. Standing outside the community center near where the children were playing the commissioner and others could smell the fumes from nearby Rolling Hills landfill. A dust cloud drifted from the site covering parents walking their baby on Wagner Road.
"I'm appalled that little or no action has been taken from the county on these landfills," said May in a taped interview for Dr. Gloria G. Horning, a community and environmental activist.
"These residents have been complaining for years. I can't believe that this water has never been tested."
The commissioner had to speak over the noise of the dump trucks and bulldozers working on the mound of waste that towered over the county center and park. In the photo with this post, the mound can been seen in the background.
The taxpayers have paid for the Wedgewood site twice–first as middle school and then as a community center. Superintendent Malcolm Thomas pulled a fast one over Board of County Commissioners when he sold the board the closed Wedgewood Middle School for $2.95 million in May 2009. Commissioners Young, Gene Valentino, Kevin White and Wilson Robertson voted for the purchase. Only Commissioner Grover Robinson opposed it. The middle school has since been demolished.
On the other side of the landfill are baseball parks.