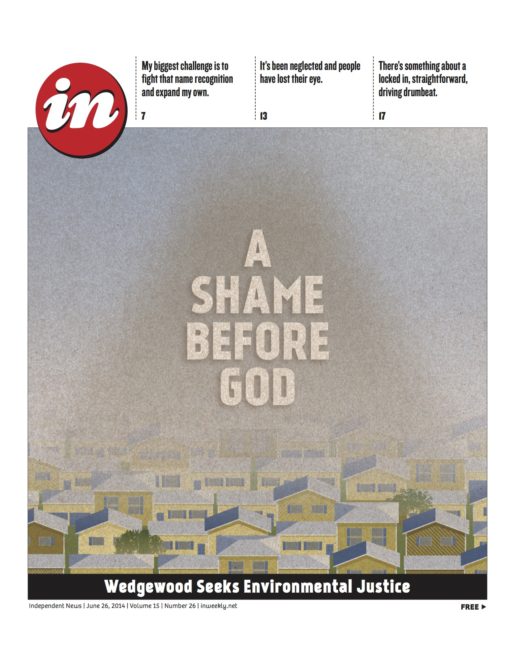 Over 60 residents of the Wedgewood and Rolling Hills neighborhood came out for a town hall meeting at the Marie Young Community Center. Sitting in plastic chairs on the gym floor, they listened to attorney Todd Harris explain why his client, Sunbelt Crushing, LLC, should be allowed to renew its permit to operate in their neighborhood.
The crowd was mostly elderly African-Americans who have lived in the area for decades. Harris explained that Sunbelt Crushing had no violations over the past 14 years it has operated at 2390 Longleaf Drive.
"We are aware of the problems you've had," said Harris. "That's not us. This facility has no pits. In fact, it reduces the need for pits by recycling concrete."
Wedgewood had recently fought a nearly three-year battle to close and clean up the Rolling Hills C&D Recycling facility. Read 'A Shame Before God."
County officials told Inweekly that the Florida Department of Environmental Protection would complete its work on the site in a few weeks.
When I walked into the gym after my radio show, "Pensacola Speaks," Harris was fielding questions from the audience. I saw several familiar faces from three years ago when I interviewed families for our investigative report.
Heads were grayer; hair was thinner. Some were in wheelchairs, others used canes and walkers. A few had oxygen tanks. They talked about the poor health of their family, friends, and neighbors, which they believed is tied to the landfills and other industrial facilities that surround their homes.
Larry Williams, who grew up in Wedgewood and moved back a few years ago, said, "You've hired no one from this community. You are dumping, leaving and going home. We're left to deal with it."
He argued the Sunbelt is not giving back to the community. He said, "You have a right to do business, but we have a right to live in a safe and hazard-free environment."
Several agreed that Sunbelt had the right to operate but asked that it be done elsewhere, not near residents or schools.
Harris said, "The problems you have had were created by people who did not abide by the law. We do abide by the law."
He explained his client had installed dust suppression equipment to reduce the dust coming off the property. Harris estimated Sunbelt had spent about $10,000 on a sprinkler system.
Miss Esther, who has lived in the neighborhood since 1963, echoed the sentiments of Williams.
"You have a right to do business, but we have a right to live," she said. "It's too late for some of us; we are looking out for the next generation."
Miss Esther added, "No matter how much you regulate, it's not going to help the health problems of this community. This community has been worn out already."
Harris said the testing data shows Sunbelt has been a good neighbor. He said, "We realize that we won't ever provide enough data to satisfy everyone."
Commissioner Lumon May thanked the residents for coming out on a Tuesday night. He pointed out that for decades 40-50 permits have been issued in black neighborhoods without any town halls, which is why he insisted on the meeting.
He said over the years the EPA, DEP and the County have failed Wedgewood.
"We have too many borrow pits, landfills and recycling facilities in our neighborhoods," said May. "We should never have built a community center next to contamination. We shouldn't allow these operations near our schools and homes."
The public hearing for Sunbelt Crushing's permit has not been set.
——–
Note: This is what the residents of Pensacola never get to do – address their mayor and his staff in a town hall setting. Mayor Hayward has argued that people don't show up. If the meeting's agenda is relevant, they will. The Escambia Board of County Commissioners prove it several times every month.