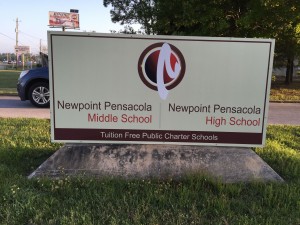 This is the written notice Newpoint Education Partners gave its teachers today:
"As all of you know, despite all our best efforts to prevent this situation and due to the actions of an employee of our schools and the Superintendent and Escambia County School Board, the schools' charter contracts have been terminated. Please know that Newpoint Education Partners would have managed these schools for years to come, as we know that you, the staff, would have given the schools your best for years to come. Unfortunately, due to the actions of the others, we will not have the opportunity to do so.
"The school's board (they crossed out 'of 21st Century Academy of Pensacola') will have to decide whether to continue with the appeal of the school board's termination of the schools. Since the management agreement ends today, Newpoint Education Partners will be responsible for your pay through today. If the board finds that there are funds remaining in the school's accounts. they can and will continue your pay into the summer.
"If you have concerns that you wish to express, the best venue for doing so would be the Escambia County School board members.
"We are very sorry for everyone involved in this situation, particularly the students, their parents and you. We wish you all the best."
——
Note: Newpoint Education Partners set up 21st Century Academy of Pensacola. Its first board president was Tracey Adcock of Lynn Haven, who was also the secretary of Newpoint Bay, a Panama City charter school. Of course, 21st Century Academy immediately hired Newpoint Education Partners to run the Pensacola schools when they got their charters four years ago.