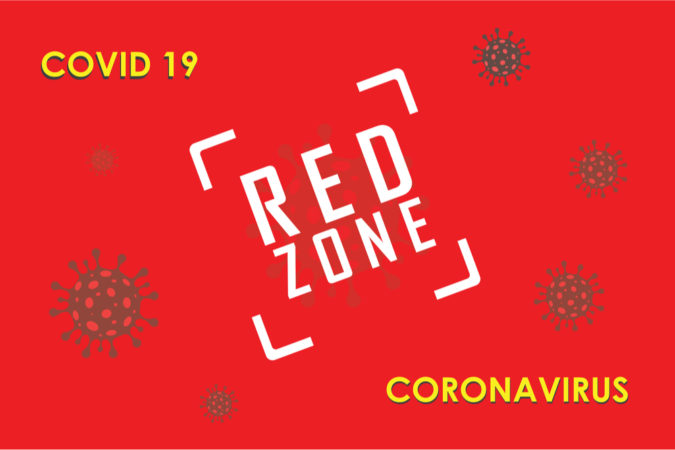 The Pensacola Metropolitan Statistical Area (MSA) – which includes Escambia and Santa Rosa counties – still is in the Red Zone according to the latest Trump administration report, dated July 26.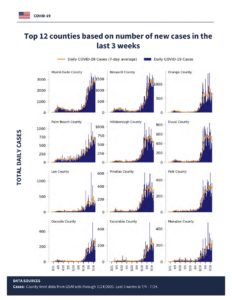 All Red MSA: Cape Coral-FortMyers,Lakeland-WinterHaven, Pensacola-Ferry Pass-Brent, Naples-Marco Island, PortSt.Lucie, Tallahassee, Ocala, Crestview-Fort Walton Beach-Destin, PanamaCity, LakeCity, Sebastian-Vero Beach, Key West, Homosassa Springs, Palatka, Sebring-Avon Park, Clewiston , Okeechobee, Wauchula
All Red Counties:Miami-Dade, Broward, Orange,Palm Beach, Hillsborough, Duval, Lee, Pinellas, Polk, Osceola, Escambia, Manatee, Collier, Pasco, Seminole, Marion, St. Lucie, Leon, Bay,Columbia, St.Johns, Santa Rosa, Clay, Okaloosa, Martin, Indian River, Hernando, Monroe, Gadsden, Citrus, Putnam , Jackson , Highlands, Hendry, Suwannee, Okeechobee, Madison, Washington, Hardee Gulf, Gilchrist, Hamilton , Calhoun, Bradford , Glades, Union , Jefferson , Liberty, Lafayette
To be labeled a Red Zone, the area last week reported both new cases above 100 per 100,000 population , and a diagnostic test positivity result above 10 .
Recommendations for Red Zone areas:
Public Messaging
Wear a mask at all times outside the home and maintain physical distance
Limit social gatherings to 10 people or fewer. Do not go to bars, nightclubs,or gyms
Use takeout or eat outdoor ssocially distanced
Protect anyone with serious medical conditions at home by social distancing at home and usinghigh levels of personal hygiene, including handwashing and cleanin gsurfaces
Reduce your public interactions and activities to 25% of your normal activity
Public Officials
Close bars and gyms, and create outdoor dining opportunities with pedestrian areas ***
Limits social gatherings to 10 people or fewer
Institute routine weekly testing of all workers in assisted living and long-term care facilities. Require masks for all staf fand prohibit visitors
Ensure that all business retailers and personal services require masks and can safely social distance
Increase messaging on the risk of serious disease for individuals in all age groups with preexisting obesity, hypertension, and diabetes mellitus and recommend to shelter in place
Work with local community groups to provide targeted, tailored messaging to communities with high case rates, and increase community level testing.
Recruit more contact tracers as community outreach workers to ensure all cases are contacted and all positive households are individually tested within 24hours
Provide isolation facilities outside of households if positive individuals can't quarantine successfully
Testing
Move to community-led neighborhood testing and work with local community groups to increase access to testing
Surge testingand contact tracing resources to neighborhoods and zip codes highest case rates
Diagnostic pooling:Laboratories should use pooling of samplesto increase testing access and reduce turnaround times to under 12 hours.
Consider pools of 2-3 individuals in high incidence settings and 5:1 pools in setting where test positivity is under 10%
Surveillance pooling: For family and cohabitating households, screen entire households in a single test by pooling specimens of all members into single collection device.
Read White House – Florida 726.
---
***To follow the White House recommendations Escambia County and the Florida Department of Health need to change their faces mask advisory.
Current, they encourage  face coverings in any setting where social distancing is not possible.
The White House recommends for Red Zones that  a mask be worn at all times outside the home.
Will the county administration mention this White House report in its updates and Sitrep reports today?