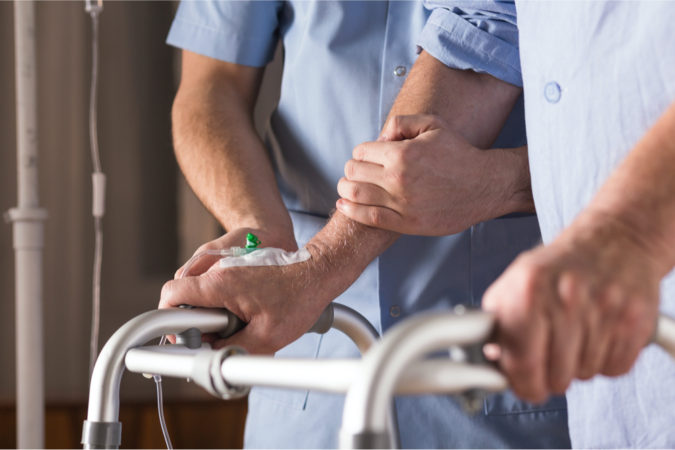 Southern Oaks Fallout
Inweekly's report on the COVID-19 virus in local nursing homes has been picked up and amplified by other local media. WEAR TV interviewed our attorney Eric Stevenson who made our public record request.
PNJ reporter Jim Little called the other nursing homes listed in the emails we received. Brookdale, 8700 University Pkwy, confirmed that more than one member of its Pensacola location has tested positive for COVID-19. Arcadia, 10095 Hillview Drive, last week confirmed to the News Journal that a staff member there tested positive.
Little was unable to reach Southern Oak for comment. The other facility listed in Dr. Lanza's email was Bayside, 4343 Langley Ave.
Meanwhile, Inweekly received a tip that Southern Oaks, at West 600 Gregory Street in downtown Pensacola, now has 26 positive cases. If true, that would mean more than half of Escambia County's 49 COVID-19 cases among residents and staff in long-term care facilities are tied to Southern Oaks. We have also been told that some Southern Oaks employees also work part-time at other nursing homes.
The questions:
For County Administration: The SitReps show Escambia County didn't begin monitoring and contacting long-term care facilities until March 31 — and within three days a COVID-19 outbreak in an assisted living facility was reported on the SitRep.
Q1. Why did the EOC wait two weeks before it began to monitor these facilities?
Q2. For DOH Escambia: Have all the residents and staff at local nursing homes been tested? Where are those tests tracked and reported? What measures have been taken to prevent the spread in the facilities and community?
The Orlando Sentinel reports AARP (American Association of Retired Person) sent a letter to Gov. Ron DeSantis urging him to release the names of the nursing homes where residents have tested positive for the new coronavirus. More than 1,200 residents and staff at long-term care facilities have tested positive for the virus.
Q3. For County Administration: Has anyone in county government made a similar request of the governor's office? Based on the county's history of misleading statements, we will need to see a copy of the email or letter.
Seniors around the state of Florida are at risk. Florida Politics reports that Florida's five oldest counties, which happen to be the five oldest in the country with populations of great than 50,000 people, all have mortality rates from COVID-19 greater than Florida overall.
It's a dumbfounding that Escambia County didn't focus on the nursing homes the day the EOC was activated on March 17.
For the record, it has been 15 days since County Administrator Janice Gilley and DOH Escambia Dr. John Lanza have held a press briefing. The Escambia Board of County Commissioners held its last public meeting two weeks ago.
---
Baptist Deploys Chromebooks
Recognizing the importance of maintaining close communication between patients and their families at a time when infection prevention measures have necessitated a strict visitation policy, Baptist Health Care has created a Patient and Family Communication Team.
Communication liaisons are now assigned to each inpatient unit at Baptist, Gulf Breeze and Jay hospitals to facilitate virtual visits with patients and families. This helps to identify and overcome any barriers that might prevent them from using technology to connect with their loved ones.
As part of the program, the Baptist information technology department has provided 30 Chromebooks equipped with the Zoom app that patients without access to a smart phone can use to have face time with their families.
---
The Santa Rosa Hot Spot
FIRST FLORIDA INMATES DIE OF COVID-19
TALLAHASSEE — Two inmates at a Northwest Florida prison have died as a result of COVID-19, the local medical examiner's office confirmed on Wednesday.
Florida Department of Corrections officials have kept the inmate fatalities at Blackwater River Correctional Facility secret for nearly a week, despite numerous questions from The News Service of Florida about deaths at the Santa Rosa County prison.
Jeffrey Sand, a 69-year-old inmate, died April 9 from complications related to COVID-19, according to Jeff Martin, the director of the medical examiner's office that oversees Santa Rosa County.
Blackwater inmate William Wilson, 84, died three days later as a result of COVID-19, Martin told the News Service.
Wilson and Sand appear to be the first two COVID-19-related deaths among the state's roughly 94,000 inmates.
The number of COVID-19 cases at Blackwater, a prison operated by The Geo Group Inc., have skyrocketed in the last week.
As of Tuesday afternoon, eight workers and 33 inmates at the prison tested positive for COVID-19, according to the Florida Department of Corrections. All but two of the 35 inmates in Florida who have tested positive for the virus are housed at the Milton facility. The outbreak at Blackwater was first reported on March 30, when corrections officials said that two workers at the private prison tested positive for COVID-19.
Corrections officials have refused to answer questions about Wilson's death since Sunday. When asked Wednesday why the two prison fatalities had not been disclosed, officials did not immediately respond to requests for comment.
The Florida Department of Corrections has not reported any deaths in the agency's daily published updates on the number of workers and inmates who have tested positive for COVID-19. The department did not respond when asked if the agency's tally of infected inmates includes the deaths of Wilson and Sand.
As of Tuesday afternoon, 35 inmates and 56 corrections employees had tested positive for COVID-19, the respiratory disease caused by the novel coronavirus. COVID-19 has been detected at 24 prisons and three probation offices across the state, according to corrections officals.
The spread of the highly contagious virus at Blackwater has fueled anxiety and fear among inmates and their loved ones, who say they are having trouble getting information from the state about the outbreak of the deadly disease.
"It terrifies me that the state is not being transparent," Natausha Hunt, whose 28-year-old son Gary Ford is a Blackwater inmate who has been exposed to the virus, told the News Service on Wednesday. "This heightens my fear for my son, inmates and families. I'm so scared for my son."
Hunt said Ford has been in quarantine with at least 60 inmates for three weeks, and has been told by corrections workers that his time in quarantine "starts over each time someone tests positive" for the virus.
Amanda Gordon, whose boyfriend is an inmate at Blackwater, said in an interview Sunday that she was upset to learn prisoners had no access to face masks until April 11, when more than two dozen inmates had already been diagnosed with the virus.
"I feel like even before this they (corrections workers) didn't care for their (inmates) well-being, so now that there is a virus, I don't think it is going to make them change from before," Gordon said. "I don't think they are going to do what they have to do unless it is one of their loved ones."
The Geo Group has refused to answer questions about Blackwater's 41 COVID-19 cases. The Boca Raton-based company has referred questions to the Department of Management Services, the state agency that oversees private prison contracts.
DMS officials have not responded to questions about Blackwater's situation since April 9, when the number of cases within the inmate population soared to 30 and the first death occurred.
Gov. Ron DeSantis' administration also won't reveal the number of inmates or workers who have been tested for COVID-19, or how many prisoners are in medical isolation due to the virus.
Corrections officials say inmate testing is determined by a medical professional, who consults with the county health department.
The Santa Rosa County health department, which helps test inmates housed at Blackwater Correctional Facility and Santa Rosa Correctional Institution, is conducting random testing of staff and employees to determine who could be infected, according to Debbie Stilphen, a spokeswoman with the county agency.
"We are randomly sampling staff and inmates from different pods based on the number of specimen containers available," Stilphen told the News Service last week.
Santa Rosa County, which as of Wednesday reported four coronavirus-related deaths, has enough tests to meet the demand of symptomatic inmates at the two prisons, Stilphen said.