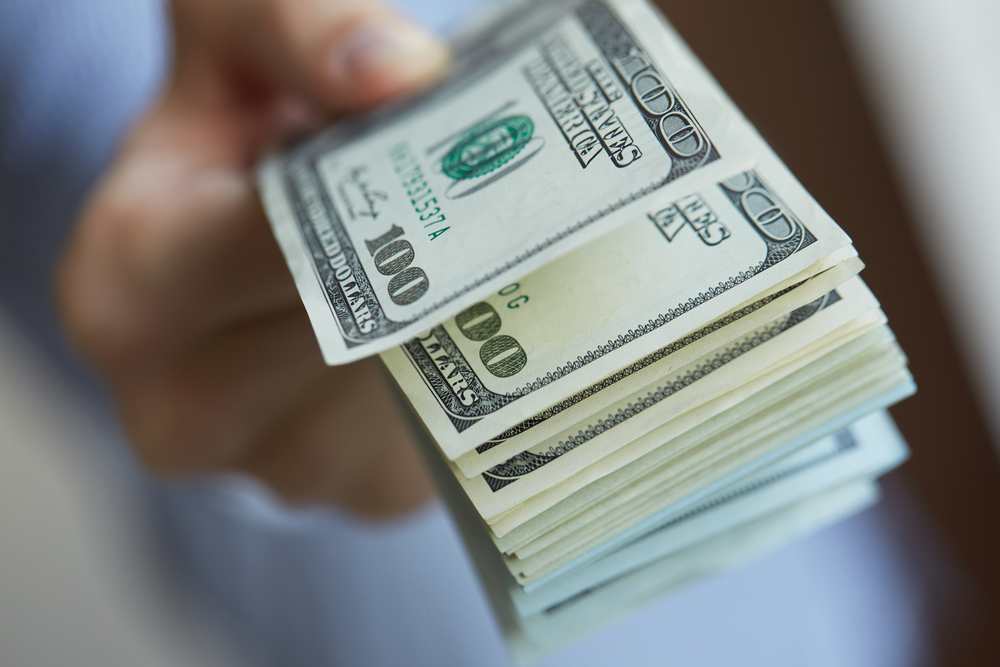 Mayor Grover Robinson has 92 holdovers that have employement contracts that give them more than two weeks of severance, according to public records. The number given us before Christmas was only 80 such employees.
The total salaries for these 92 employees is $7 million–nearly 20 percent of the city's salary budget and half of the city's property tax collections in FY 2017.
The FY 2019 budget has 781 authorized city positions, and 12 percent of the them have severance packages.
The positions range from key positions, such as Chief Financial Director and City Attorney, to administrative jobs, such as Constituent Services Assistant and Public Information Specialist.
The estimated payout of the severance clauses is $1 million.
| | | | |
| --- | --- | --- | --- |
| RICHARD | BARKER JR | Chief Financial Officer | $139,588.80 |
| JONATHAN | BILBY | Inspection Services Administrator | $ 88,004.80 |
| MARY | BILLS | Business Process Review Manager | $104,852.80 |
| ANNIE | BLOXSON | Battalion Chief | $77,833.60 |
| LYSIA | BOWLING | City Attorney | $159,640.00 |
| KRISTIN | BROWN | Police Administrative Captain | $88,316.80 |
| LATASHA | BUCHANAN | Constituent Services Administrator | $77,022.40 |
| BYRON | BURKHART | Assistant Airport Director for Operations | $ 82,388.80 |
| ERICKA | BURNETT | City Clerk | $ 79,289.60 |
| LAURIE | BYRNE | Constituent Services Assistant | $ 35,880.00 |
| KEVIN | CHRISTMAN | Police Administrative Captain | $88,275.20 |
| JENNIFER | COLE | Police Budgeting & Planning Specialist | $59,758.40 |
| CAROLYN | CONNORS | Crime Analyst | $ 46,696.00 |
| MARCUS | COOPER | Parks & Recreation Director | $105,227.20 |
| DAWN | CORRIGAN | Rental Assistance Programs Manager | $48,464.00 |
| GINNY | CRANOR | Fire Chief | $103,937.60 |
| VICTORIA | D'ANGELO | Assistant CRA Administrator | $65,000.00 |
| EDWARD | DAIGLE | Golf Course Greens Superintendent | $44,720.00 |
| ALEXANDRA | DAILY | Assistant to Chief Financial Officer | $45,032.00 |
| CYNTHIA | DANGELO | Police Media Relations Coordinator | $60,112.00 |
| DANIEL | DAVIS JR | Police Administrative Captain | $ 90,937.60 |
| BRANDI | DEESE | Assistant Planning Services Administrator | $73,507.20 |
| TESS | DORILIO | Executive Assistant to City Administrator | $ 36,774.40 |
| DENA | FAESSEL | Pensacola Energy Administrator of Operations | $101,795.20 |
| REBECCA | FERGUSON | Economic Policy Coordinator | $72,800.00 |
| DENNIS | FLEMING | Sanitation Services/Fleet Management Director | $98,508.80 |
| DANIEL | FLYNN | Airport Director | $118,248.00 |
| GEORGE | FOSS | Battalion Chief | $74,006.40 |
| SONJA | GAINES | Council Assistant | $ 44,179.20 |
| M | GIBSON | CRA Administrator | $91,998.40 |
| HOSEA | GOODWYN | Assistant Purchasing Manager | $44,553.60 |
| MARKEITTA | GRAHAM | Legal Assistant | $47,236.80 |
| JILL | GROVE | Marketing Manager | $78,728.00 |
| MATTHEW | HINOTE | Engineering Project Manager | $79,497.60 |
| JAMES | HUNT | Housing Rehabilitation Specialist | $54,017.60 |
| PRISCILLA | JACKSON | Payroll & Retirement Manager | $88,233.60 |
| URSULA | JACKSON | Housing Operations Manager | $36,649.60 |
| HAYDEN | JESTER | Assistant Fire Chief | $89,523.20 |
| PATRICE | JOHNSON | Executive Assistant | $45,052.80 |
| ASHLEY | JOYNER | Public Records Coordinator | $ 43,555.20 |
| BRENDA | KAHALLEY | Technology Resources Manager | $ 87,110.40 |
| CEDRIC | KING | Battalion Chief | $ 77,829.44 |
| DONALD | KRAHER | Council Executive | $105,976.00 |
| ANDREA | KVECH | Asst Airport Director for Finance | $87,193.60 |
| M | LANE | Housing Rehabilitation Programs Mgr | $82,492.80 |
| KAREN | LEFEBVRE | Executive Assistant | $41,080.00 |
| NICOLE | LOUIE | Housing Sec 8 Finance Specialist | $ 34,340.80 |
| TOMMI | LYTER | Police Chief | $117,977.60 |
| JOHN | MADDEN | Customer Service Manager | $79,310.40 |
| ELAINE | MAGER | Executive Assistant to Council | $59,966.40 |
| GEORGE | MAIBERGER | Purchasing Manager | $ 90,001.60 |
| CHARLES | MALLETT | Police Administrative Captain | $95,492.80 |
| JANET | MATTESON | Legal Assistant | $74,838.40 |
| CHRISTOPHER | MAULDIN | Engineering Specialist | $ 44,990.40 |
| JAMES | MCGUIRE JR | Building Construction & Facilities Manager | $83,408.00 |
| ROSEMARY | MCLELLAN | Budget Manager | $104,852.80 |
| MILTON | MERRITT JR | Port Business Development Manager | $71,302.40 |
| AMY | MILLER | Port Director | $ 98,155.20 |
| MINDY | MILLER | Budget Analyst | $41,662.40 |
| SUSAN | MOORE | Gas Distribution Engineer | $ 78,728.00 |
| VANESSA | MOORE | Legal Advisor | $92,705.60 |
| SHERRY | MORRIS | Planning Services Administrator | $95,638.40 |
| THOMAS | MULROY | Risk Manager | $ 82,139.20 |
| TRUDI | NICHOLS | Assistant Technology Resources Manager | $ 67,288.00 |
| DONNA | NICKERSON | Budget & Systems Administrator | $ 82,617.60 |
| ALEXANDRA | NORTON | Public Information Specialist | $43,659.20 |
| RYAN | NOVOTA | Transportation Engineer | $ 88,316.80 |
| REBECCA | OBERTO | Airport Marketing Manager | $50,169.60 |
| LLOYD | OWENS | Public Works Director | $118,102.40 |
| LAURA | PICKLAP | Accounting Services Manager | $ 91,000.00 |
| CARLOS | ROBINSON | Classification & Compensation Analyst | $ 49,774.40 |
| PAUL | PIPES | Volunteer & Outdoor Pursuits Coordinator | $35,006.40 |
| DEREK | PRATT | Battalion Chief | $76,616.80 |
| DOUGLAS | RESMONDO | Assistant Sanitation Services/Fleet Management Director | $89,232.00 |
| STEVEN | RICHARDS | Code Enforcement Administrator | $85,592.00 |
| ANTONIETTE | RIVERA | Childcare Coordinator | $35,006.40 |
| DARRYL | SINGLETON | Gas Operations Superintendent | $83,366.40 |
| EDWARD | SISSON | Chief Human Resources Officer | $104,852.80 |
| LESLIE | STATLER | Planner | $ 51,896.00 |
| VERNON | STEWART | Public Information Officer | $65,561.60 |
| ADRIAN | STILLS | Golf Course Manager | $46,779.20 |
| DON | SUAREZ | Pensacola Energy Director | $ 131,560.00 |
| ROBYN | TICE | Assistant City Clerk | $ 54,579.20 |
| TRACY | WALSH | Human Resources Manager | $ 75,129.60 |
| CHARLES | WALTERS II | Battalion Chief | $75,156.12 |
| WILLIAM | WELLS JR | Contract & Lease Counsel | $102,460.80 |
| MARCIA | WHITAKER | Housing Administrator | $94,390.40 |
| KEITHLEY | WILKINS | Assistant City Administrator | $143,852.80 |
| ROGER | WILLIAMS | Stormwater Facilities Manager | $ 60,008.00 |
| KRISTY | WILSON | City Nurse | $ 55,411.20 |
| AMY | WORKMAN | Recruiting & Training Manager | $62,296.00 |
| BELINDA | ZEPHIR | Air Service Development Manager | $74,089.60 |
| __ | __ | Total Salaries | $7,030,807.16 |